Art, Bachelor of Fine Arts

Program Overview
Bachelor of Fine Art (BFA) Creative Media or Studio Art is an intensive professional degree pathway that exposes students to a breadth and depth of study in the areas of CREATIVE MEDIA (Photography, Graphic Design, Digital Illustration, and Time Based Media) or STUDIO ART (Painting, Drawing, Ceramics, Sculpture, and Printmaking).
Students complete the Art Core that includes integrated studies along with a foundation of design. Students complete the Critical Fundamental Skills Review (ARC310) to move into Upper Division studies. BFA candidates prepare and present showcase portfolio and exhibition in their final Spring term that reflects upper-division coursework as well as independent research.
Successful student presentations demonstrate viability to function effectively within appropriate creative industries based on pathway emphasis. 
"The underlying goal is to guide students toward initiating an ongoing body of work that is profoundly personal and broadly understood. This process leads the student toward personal discoveries and that curiosity and creativity is part of our lives and that each work represents another step toward becoming an artist."
- Aaron Alexander, Director/Department Chair
Areas of Exploration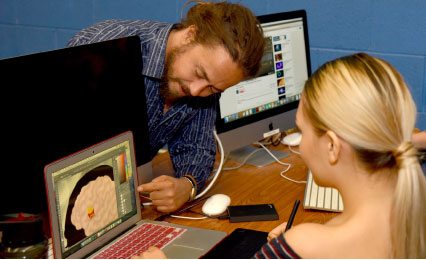 Creative Media
The Creative Media emphasis covers the following areas of study:
 

Digital Illustration

To address growing student interest in new technology, the art department has initiated an emphasis in digital art. The classroom work in this contemporary field leads to student internships with regional agencies and provides practical experience in the working environment. Art students build upon the core courses such as drawing and design to further their originality and skill. Digital art courses at CSU are integrated within the art major as part of a program to develop a student's full creative abilities and are not offered as isolated job-training or software instruction programs

 

Photography

Photography is the language of seeing. Millions upon millions of photographs are captured everyday. It is the most widely used visual artform on the planet. So with countless photographs being made by so many people all the time, what does it mean to be a professional photographer today? 

Remarkably, the most valuable qualities that define someone who is able to communicate and help others to communicate clearly through image-making have not been changed by the vast amount of pictures being made. Instead, the plurality of image-makers have made these two characteristics even more valuable. 

These two qualities are creative persistence, and the ability to navigate change. Without these, our pictures are likely to become technically proficient yet void of personal vision or distinctive point of view; lost in the ocean of everyday images. 

Our approach to teaching photography is to show you how to become a photographer. We will navigate together the ever-changing technical components while developing your personal vision toward a deeper awareness in what transforms a picture into a photograph. Like a t-square to a carpenter, the camera is a tool. It is the photographer, not the camera, that explores solutions to concepts, aesthetics, and ultimately the objectives of their projects. 

Whether you are interested in photography as a profession, plan to use it as a supplement to your creative career or are simply curious about how you can make better images; our exploration courses are carefully designed to enrich anyone regardless of prior experience or technical knowledge. And from there, you will have an opportunity to mine the depths of creativity and the rich history that defines this exciting medium.

 

Graphic Design/Visual Communication

Graphic Design, as visual communication, allows the artist to express their own imagery and ideas, or offer these skills as a service to others. Designers must also be proficient in business and public relations skills.

The use of computers as a tool within this field brings constant change and innovation. Our Macintosh-based program has state-of-the-art software and equipment so that the students are adequately prepared for the industry. There is still, however, a primary emphasis on the design process and principles of composition, form, and technique.

The advanced workshop is oriented toward graphics applied in the print industry. Here students work with actual clients. The class is set up to simulate a professional design studio with job positions such as art director, production manager, computer manager, etc. All students are designers as well. Selected designs are professionally printed and/or produced thus contributing to the student's portfolios.

Individual creativity and a general education degree continue to prove their value in today's market. The core fine art aspect of our major adds an important dimension to a designer's repertoire of knowledge and talents. Students in this emphasis area thus learn a useful combination of business knowledge, creativity, technology, and professionalism.

 

Time-Based Media

The art department 

is excited to be offering an emphasis on time-based media. The classroom work in this contemporary artwork includes audio, video, slide, film, and other technologies. Contact the department for more information!
Studio Arts
The Studio Arts emphasis covers the following areas of study:
 

Ceramics

What is clay? How are pots or clay objects made? What is a glaze? What is a firing? What is a good pot? These questions are investigated, discussed, and answered for students who pursue an emphasis in ceramics.

Demonstrations, short lectures, slides, videos, and assigned readings and writings help introduce each project. Student inquiries are informed by the history and traditions of ceramics as well as research into contemporary trends and discussions about aesthetics. Students process their clay, create sculptural as well as wheel-thrown forms and glaze their work while exploring a variety of possibilities for firing their pieces in low and high fire kilns.

 

Painting & Drawing

In drawing I, the aim of the class is to give students the basic foundation in drawing skills. These skills include the choice and application of materials, the structural use of a two-dimensional surface with regard to recording visual information, and a developed ability in visual thinking. This course is a foundation for all areas of the visual arts and as a beginning course for drawing as an emphasis area.

Drawing II is a studio course essentially involving of practice drawing the human figure and instruction in anatomy in order to better understand the structure and articulation of the body. Ultimately, the study and practice is intended to help develop creative expression.

Advanced drawing courses are meant to develop a student's abilities in drawing to a high level of competence using a variety of drawing media.

In painting, students are led through projects which enhance their confidence and ease in use of both acrylic and oil media. As their skills develop, they are guided in developing content and style, while continuing to apply principles of color and composition. Intermediate and advanced students work in close proximity to beginners sharing ideas and approaches. They also have the opportunity to work on collaborative mural projects.

 

3D Art + Sculpture

The sculpture/site art emphasis offers a unique opportunity to develop a strong understanding of the materials and processes of sculpture, and then to use this sculptural language to address actual situations.

Advanced students will be trained in the presentation and creation of site specific sculptural forms, setting the groundwork for real life applications in their professional careers.

Presentation skills such as computer-enhanced graphics, models, video utilization, and written proposals are taught along with traditional sculpting techniques. In tackling complex site and content issues while creating sculptural forms, students gain valuable experience and self-confidence. This approach prepares students to successfully take on sculptural commissions from a wide range of architectural and community arts sources soon after graduation.

The Sculpture Studio courses begin with these projects in the 3-Dimensional Design course.

 

Printmaking

The print studio is a well-equipped workshop that concentrates on lithography, intaglio, and relief. Photographic printing processes are available in all three areas.

The printmaking studio strives to provide a professional shop atmosphere emphasizing contemporary issues conducive to the professional development of the student artist. The organization and proximity of each process area offer the student opportunities to move freely from one medium to another or to combine them in the development of a print when need be. The print shop encourages the collaborative experience with other studio areas that will broaden personal attitudes through exposure to various media and concepts. In addition, there are opportunities for students to perform in this manner with visiting artists periodically in residence. The teaching philosophy does not stress any one style or aesthetic approach and encourages personal development and growth which becomes the final measurement of achievement.
Frequently Asked Questions
What is the Difference between a Bachelor of Fine Arts (BFA) and a Bachelor of Art (BA)?
The degree pathway you choose is largely determined by how you see your career pathway unfolding. The Creative Industries employ many types of people with a wide variety of skills.
There are those who make things, those who direct others to make things, people who work with those who need things made, folks who research how things used to be made, and those who design new ways of making things; Regardless of which describes you best, there are multiple pathways toward enjoying an active and fulfilling career.
In a nutshell, the BFA is an intensive professional degree pathway that exposes students to a breadth and depth of study in the areas of CREATIVE MEDIA (Photography, Graphic Design, Digital Illustration, and Time Based Media) or STUDIO ART (Painting, Drawing, Ceramics, Sculpture, and Printmaking). If you imagine a career that involves making things then the BFA would be a great place to start.
The BA on the other hand is appropriate for students who seek a general liberal arts degree that is enriched by studio education in the visual arts. The BA programs integrate arts research with broad-based studio art training into a substantial liberal arts education. You may emphasize in one of three areas; Art History, Art & Creative Media, or Art Education, for those who want to become an Art teacher in the K-12 system. 
Learn more about the Bachelor of Fine Arts Program
What makes studying Creative Arts at CSU Pueblo special?
As a part of the Department of Art & Creative Media, you will explore new ways to communicate where scholars, artists, and designers come together to navigate change and challenge conventions. We understand that a collaborative community is a key to unlocking many pathways toward careers in the creative industries.
Our rigorous integrated approach to learning dissolves boundaries between disciplines and empowers students to shape their own creative voice. We are committed to developing a community of creative professionals who will have an impact on the world.
Working together as agents of change; professors, students, colleagues, and peers form a foundation of support that nurtures expressive minds in an environment where art might happen.
What does a career in the Creative Arts look like?
Creative professionals serve as agents of change, offering bold and fresh perspectives as part of their expertise. Like any other fine skill, creative thinking is learned and must be practiced in order to remain sharp. The School of Creativity + Practice and the representative Departments are uniquely positioned to lead our College, University, and community by equipping those who engage in our programs with practical, conceptual, and analytical tools to better understand and respond to challenges in the most thoughtful and innovative ways.
Conventional wisdom tells us that life itself is a series of natural and spontaneous changes. These evolutions shape us in many ways and our response is often dependent on how well we perceive ourselves to be prepared for them. As we enter into the third decade of the twenty-first century, a time of profound cultural, social, and political change, it is clear that creativity is becoming a valuable asset in social and professional environments.
What are Integrated Studies?
ART RESEARCH and CREATIVITY ( ARC ) courses are immersive, team-taught, integrated, and transformative learning experiences that target elements in multiple areas of study. The School of Creativity + Practice, has designed these courses to establish a foundation from which to grow. Students from Media Communication, Music, and Art & Creative Media will be exposed to a variety of concepts, ideas, and frameworks that are fundamental to careers in creative industries.
Freshmen begin semester one with ARC110. This foundation course introduces all SoCaP students to the concepts of Integrated Studies. It has been designed to build literacy across disciplines using sound principles; developing students toward a meaningful and significant discovery of their own creative voice.