Admissions
Your Life. Changing. Education Begins Here.
Build Your Future Your Way
Welcome to CSU Pueblo! Here you'll find academic excellence at a true university that is dedicated to elevating our community by creating educational opportunities that bring together people of all backgrounds. With a focus on inclusion and accessibility, CSU Pueblo offers individualized guidance, quality education, access to interdisciplinary learning, and nationally recognized faculty that is dedicated to your success first.
Free Tuition: Colorado Promise
CSU Pueblo's Colorado Promise Scholarship is designed for Colorado residents who are first-time college undergraduate or transfer students attending CSU Pueblo to obtain their first bachelor's degree in Fall 2023. Recipients will be guaranteed free tuition for one year but may be continued up to four years as long as the student maintains full-time enrollment and a GPA of 3.0 or higher.
Learn more about Free Tuition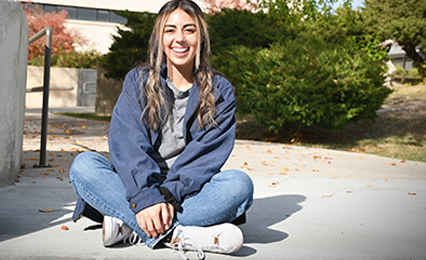 Open Your Mind. Change Your Life. 
At CSU Pueblo we know there is no such thing as a regular student, and are dedicated to giving all students the opportunity to further their education. Whether you're joining us after high school as an undergraduate, transferring, returning as an adult, prefer online classes, or are ready to level up your degree, CSU Pueblo has programs and resources to help.
Explore Your Options at CSU Pueblo
Learn More About Our Colleges & Schools

ThunderWolves Visitor Center
The Visitor Center is a welcoming space for prospective and current students, parents, faculty, staff, alumni, and community members! In addition, our team can assist with questions about CSU Pueblo or services offered on campus.
Take a look around! See what CSU Pueblo has to offer in-person or from the comfort of your own home. CSU Pueblo's campus, spanning more than 275 acres, crowns the north end of Pueblo, Colorado.  
Come learn about campus life, housing options, financial aid, and more — plus pick up some tips to help with your college exploration.
At A Glance
40 Countries Represented
40% First-generation Students
Average Class Size of 21 Students
Schedule A Visit Today!
70+ Clubs and Organizations
21 Division II Athletic Programs
$50 Million in Aid Given to Students Annually