Psychology Building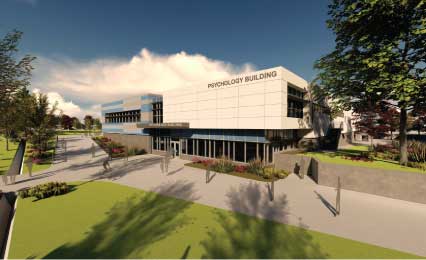 Project Start Date: May 2019
Project Completion Date: May 2020
The Psychology Building, through a $16.8 million state-funded renovation, is being redesigned to be a center for interdisciplinary collaboration between the various departments and programs focused on Health Sciences, Nursing, the Humanities, Social Sciences, Technology, and Data Sciences.
The building will house state-of-the-art simulation labs for Nursing, distance learning classrooms, and will support students' needs for collaborative spaces. The task force behind the Psychology Building Project will lead communication to keep the campus fully informed of the shared governance, the decisions, and timelines.
The renovated building will emphasize modern classrooms that are small in size, reflecting the current practice of personal attention to students. Classes with large enrollment will be held in other spaces on campus, such as the General Classroom Building.
The new Psychology Building will also support the needs of Student Health Services and Counseling Center, with careful attention paid to sound-proofing the renovated building to mitigate the privacy concerns of students utilizing the counseling services as well as to avoid the cross-over noise experienced in the General Classroom Building.
Key Goals
The key goals for the new, state-funded Psychology Building are:
Flexibility: The project will allow for flexibility in many areas, such as classroom and collaboration spaces, with new easily moveable furniture.
New Entry: A new entrance will be created to allow people to enter the building on the main level and interact with the Campus Paseo.
Collaboration: The many programs and departments that will live within the new building have been siloed for a long time. One of the main concepts at the heart of the design is to enhance collaboration for the departments as well as creating spaces for collaboration of students, faculty, and staff.
Innovation: The new design should allow for a new comprehensive and innovative approach to student learning.
Community: The project and design will enhance the student, faculty, and staff experiences of the community of the Colorado State University Pueblo campus.
Technology: State-of-the-art technology will be incorporated into the designs of the building.
Branding: Creating a main identity for the psychology building and departments within is of utmost importance. Therefore, display locations will be incorporated at both levels.
Program Elevation: The design and expansion of the psychology building will elevate the variety of programs for students, faculty, and staff of this building and campus.