Group Fitness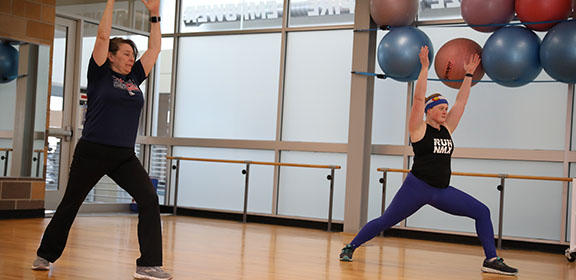 Group fitness classes are popular, effective, and FUN! It's a FACT: People work out better, longer, and harder in a group setting. A variety of fitness classes are offered for participants wanting to get a great cardio workout, wanting to burn some fat, and/or wishing to tone those bodies. If you are beginner or a regular participant, there is a class for you!

Pre-registration is NOT required & all classes are FREE for students & Rec Center members. Classes are non-competitive, participants are encouraged to work at their own level. Equipment is provided.
The fitness schedule changes regularly, offering a variety of classes, which may include: step aerobics, circuit classes, hip hop, yoga, kickboxing, Zumba, water aerobics, sports conditioning, and muscle conditioning & toning.
Current Offerings
PackFit is back for both virtual & in-person sessions!
Please note class format.
Monday
   6:30pm Yoga with Tatiana [via ZOOM & in-person]
 Tuesday 
   12pm Strength & Endurance with Lisa [via ZOOM & in-person]
    5:15pm Yoga with Karen [via ZOOM & in-person]
    5:30pm Water Fitness with Makana [in-person only]
 Wednesday
   1:30pm Office yoga with Tatiana [ZOOM only]
   2pm Office Yoga with Tatiana [ZOOM only]
   5PM-7PM Ask a Trainer with Ken [in-person only]
 Thursday 
   12pm Strength & Endurance with Lisa [via ZOOM & in-person]
   5:15 Yoga with Karen [via ZOOM & in-person]
CLICK HERE to join the Zoom classes!
Passcode: TWolfRec
Want to take a class now? Check out our on demand library of workouts by clicking below. 
 

MORE INFO ABOUT GROUP FITNESS

Participants are welcome to attend any class. We encourage you to try different classes and find those that you enjoy and will challenge you to meet your personal goals.

Classes are taught showing options (intensity levels) to exercises/routines to accommodate different audience levels (low, intermediate, and advanced – showing options for each person to work at their appropriate intensity level).

Class schedules are modified according to the academic calendar during Thanksgiving break (fall semester) and spring break (spring semester), summer session, and also during finals week for each semester.

 

CLASS RULES & GUIDELINES

Fitness classes are group activities. Cooperation among participants is greatly appreciated. By adhering to class rules & guidelines, participants will receive an effective, safe, and enjoyable workout.

 

Proper attire and footwear are required. Shoes should be supportive, non-marking athletic shoes. It is appreciated that workout shoes not be worn outside on the 'streets' – this helps keep the wood floors in good shape.
Bring water bottles to class, but try to keep them off the workout floor.
Please arrive on time for classes. Proper warm-up is necessary for the body and helps to reduce your risk of injury.
Please try to follow the instructor's routine as much as possible.
Equipment is provided. Please treat properly and return all equipment to proper places.
Inform the instructor of any medical condition that affects your exercise routine.
Most importantly… always remember that YOU are in control of your workout. Work at your level, listen to your body. Make your workout fun, safe, and effective for YOU!

 

CLASS DESCRIPTIONS

Yoga: (stretching & relaxation)
Relax, stretch, balance, concentrate, and tone. This class will make your body feel great! Benefits of yoga include improved strength, flexibility, and stress reduction. The stress of your busy life will melt away with the relaxation. Anyone can practice Yoga – any age, any fitness level.

Zumba: (Cardio Dance workout)
Come join the PARTY! This Latin-based cardio workout integrates moves such as salsa, meringue, cha-cha, cumbia, hip-hop and many others into a fun fitness workout. Come shake those stresses away and dance your way to a fitter you! Dance experience not necessary.

Circuit Circus: (Cardio & Muscle workout)
No more boring workouts! Circuit Circus changes all the time – keeps your body guessing! This fast-paced, high-energy class will train your body in cardio, endurance, and muscle strength. Learn how to use equipment to assist personal workouts and increase your fitness level. Great for all fitness levels – beginner to advanced.


DESCRIPTIONS FORTHCOMING:

Strength & Endurance
Conditioning 
Water Fitness
Pilates
Senior Fitness

 

INSTRUCTORS

Classes are led by well-trained, friendly, and enthusiastic instructors who are either certified and/or have been through a rigorous training program, focusing on proper technique, safety, and class format. Each instructor is allowed to teach with his/her own unique 'style' – which greatly enhances and adds variety to the program. To learn about instructor training or for current job openings, contact Lisa Martin via email:

Lisa.Martin@csupueblo.edu

.