Challenge Course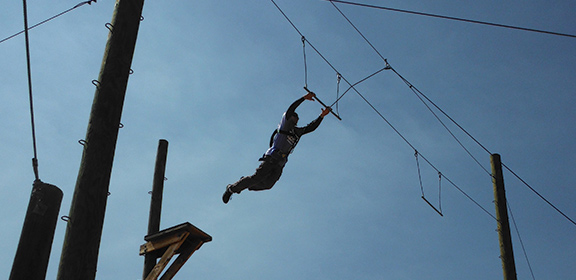 The Colorado State University - Pueblo Challenge Course is a facility created for University, School, Non-Profit and Corporate groups of all kinds and ages who wish to create, develop or foster team development and camaraderie within their group. Through a series of low and high course elements, puzzles, and challenges, groups are provided the opportunity to work through complex topics, inviting conversations about ways to become a more effective and cohesive unit. Topics addressed can include, but aren't limited to: ways to develop self-confidence, establishing clear communication, conflict resolution, taking supported risks, forms of encouragement, giving and receiving beneficial criticism and restoring relationships through a series of collaborative and unifying activities.
The course introduces groups to artificial stressors and challenges in a controlled and safe environment. The challenge course setting provides an opportunity for groups and individuals to learn about themselves and address personal, interpersonal, and organizational issues. Each team member brings a unique personality and style of communication that contributes to the dynamics of a team. Team members discover how essential individual contributions are for the effectiveness of an entire group. Participants will have an opportunity to reflect on their team-building adventure and recognize how elemental aspects of the course are relative to their everyday life.
Programs are uniquely structured with a custom built curriculum to meet your desired outcomes. Whether it be a series of low course team development activities, high course aerial elements, or a combination of both, we have the ability to address various themes with your intended objectives in mind.
Our program staff strive to create a unique environment to help cultivate individual and group progress through the framework of experiential education, with meaningful and intentional interactions.
Can't come out to CSU-Pueblo? Let us come to you! We have many portable activities which we can set up at your facility.
Outdoor Pursuits - Challenge Course
Student Rec Center
719.549.2023
sr.challengecourse@csupueblo.edu