Challenge Course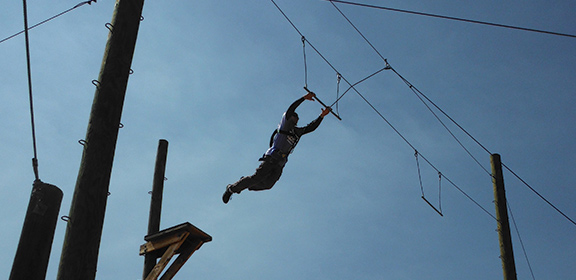 The Colorado State University-Pueblo Challenge Course is designed to benefit groups of all kinds who want to work together toward a common goal. The course objectives are to promote cooperation and group problem-solving skills, as well as, develop individual self-confidence, leadership skills, teamwork, and communication skills.
The course introduces groups to artificial stressors and challenges in a controlled and safe environment. The challenge course setting provides an opportunity for groups and individuals to learn about themselves and address personal, interpersonal, and organizational issues. Each team member brings a unique personality and style of communication that contributes to the dynamics of a team. Team members discover how vital individual contributions are to the success of the team. Participants have an opportunity to reflect on their team-building adventure and apply their experience to everyday life.
Each program, whether High Rope Elements, Low Rope Elements or our Indoor Course, is customized to meet a group's specific needs and to address certain themes which they deem important. Your program will be a unique adventure with the potential to induce learning and behavior change on both an individual and group basis.
Can't come out to CSU-Pueblo? Let us come to you! We have many portable activities which we can set up at your facility.
Outdoor Pursuits - Challenge Course
Student Rec Center
719.549.2023
sr.challengecourse@csupueblo.edu