CSU Pueblo 2022-2023 Provost/EVPAA Search - Candidate Info, Below
Colorado State University Pueblo (CSU Pueblo) seeks a collaborative, experienced academic leader to serve as the next Provost and Executive Vice President for Academic Affairs (Provost). This is a remarkable opportunity for an innovative champion of academic quality to hold a key leadership role on the executive team of President Timothy Mottet and to partner with the University Leadership Team and the faculty in achieving the goals of Vision 2028, an ambitious vision to establish CSU Pueblo "as the people's university of the Southwest United States by 2028." This vision was generated by a group of CSU Pueblo employees that seek to have the university be more responsive to the needs of its students and employees as well as the communities and regions it serves.
Primary Duties of the Provost & EVPAA
The Provost and EVPAA assist the President in the:
Developing and executing a bold vision that ensures quality, differentiates the university in the higher-education marketplace, and meets the needs of the region;
Revitalizing the curriculum through updating or creating new and innovative programs, ensuring it remains current and responsive to the needs of the region, state, and nation.
Improving university performance in enrollment, retention, completion, and placement of students and closing equity gaps among various groups of students;
Creating a learning organization focused on faculty and staff development where employees are versed in principles of learning and how to apply these principles when interacting with students
Ensuring that all students get unique and tailored learning experiences aimed at developing students to their fullest potential.
Reporting directly to the President and serving as a principal member of the cabinet, the Provost and EVPAA contributes to the university's overall success in fulfilling its mission, vision, and strategy.
The Provost and EVPAA works closely with the Vice President for Operations and Advancement (VPOA), Vice President of Enrollment Management and Extended Studies (VPEMES), Vice President of Student Affairs, the Chief Financial Officer (CFO), and the Director of Athletics. The Provost and EVPAA will provide assistance, counsel, and support to the President as a member of the Cabinet and the University Leadership Team (ULT).
Provost Search Timeline (Subject To Change)

Application Deadline February 7, 2023

Finalists on Campus March 15 - April 5, 2023
Offer Extended by April 2023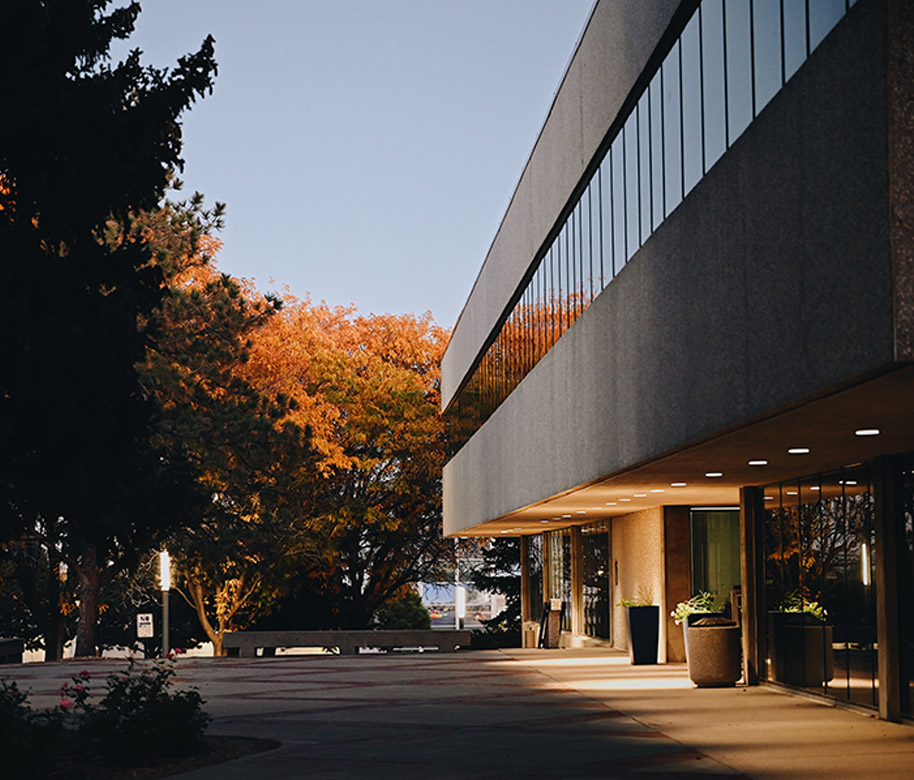 Dr. Donna Souder Hodge (VP of Operations and Advancement and Associate Professor, English and World Languages)
Dr. Kristyn White Davis (VP of Enrollment Management and Extended Studies)
Ms. Lisa Chavez (Academic Operations Manager, Office of the Provost)
Dr. Dave

Lehmpuhl

(Dean of STEM and Professor of Chemistry)
Dr. MD Islam (Associate Professor of Civil Engineering Technology, Director of SCITT, and Faculty Senate Representative to the Board of Governors, CSU System)
Dr. Derek Lopez (DEI Lead and AVP of Operations and Advancement; Ph.D. Educational Psychology)
Dr. Kevin Van Winkle (Assistant Professor of English, Associate Chair of English, and Presidential Fellow - Cabinet)
Dr. Katie Edwards (Visiting Assistant Professor, Nursing)
Dr. Margie Massey (Faculty Senate President and Professor, Teacher Education Program)
Dr. Justin Holman (Associate Professor, School of Business)
Required Qualifications
The successful candidate for the Provost and Executive Vice President for Academic Affairs shall demonstrate all these required qualifications:
An earned doctorate (or appropriate terminal degree) along with a strong record of teaching and scholarship that would merit tenure at the rank of full professor at CSU Pueblo
A record of accomplished academic leadership in administrative roles with increasing responsibility and complexity, including management of people
A strong commitment to diversity, equity, and inclusion with demonstrated success in fostering a positive, inclusive, and collaborative teaching, learning, and work environment.
Preferred Qualifications
The successful candidate for the Provost and Executive Vice President for Academic Affairs may also demonstrate some of these preferred qualifications:
Commitment to shared governance and to the ongoing support and development of faculty as excellent teachers/scholars.
Advanced organizational skills and experience in building, managing, and working with high-functioning teams to tackle challenges and take advantage of opportunities by leveraging diverse talents and perspectives.
Competency in understanding and utilizing systems to analyze and employ data to drive strategic decision-making.
Ability to foster meaningful academic and community partnerships within the city and county of Pueblo, based on experience with creating and overseeing programs that respond to the needs of a local community.
Strong communication skills with a demonstrated ability to build collegial and collaborative relationships across constituencies built on trust and transparency.
Record of success in recruiting, mentoring, and retaining a diverse and talented faculty and staff – through all career stages.
Demonstrated ability to work with faculty and staff to facilitate student success, including adult and first-generation college students; shared understanding of the unique challenges and opportunities for a designated Hispanic- Serving Institution (and aspiring Minority-Serving Institution) dedicated to serving the local and regional community.
Astute budget management with the ability to leverage resources to strategic advantage and to connect academic priorities to budgeting and the development of new revenue streams.
Ready for the Next Step?
Academic Search is assisting Colorado State University Pueblo in this search. All inquiries, nominations, and applications will be held in strict confidence. To learn more about this opportunity, potential applicants are welcome to schedule a conversation with either of the Senior Consultants for this search—Dr. Ginny Horvath (ginny.horvath@academicsearch.org) or Dr. Linda McMillin (linda.mcmillin@academicsearch.org).
START DATE
The next Provost and Executive Vice President for Academic Affairs is expected to start in Summer/Fall 2023.
COMPENSATION
The expected annual (12-month) salary range for this position is $190,000 - $230,000, commensurate with qualifications and experience.
APPLICATIONS
Applicants should send these separate documents (in PDF format) to CSUPuebloProvost@academicsearch.org
A detailed cover letter, addressed to the Search Committee, expressing your interest in this position and addressing how you meet the qualifications as outlined in this profile;
A current resume/curriculum vitae;
A statement of your personal/professional contributions to advancing diversity, equity, and inclusion (a brief document—1-2 pages—that provides your context for understanding diversity and gives examples of your leadership in advancing support for diversity, equity, and inclusion), including how you will apply this experience at a Hispanic- Serving Institution; and
A list of five professional references, including names, titles, organizations, phone numbers, and email addresses, noting your relationship for each reference
**References will not be contacted until later in the search process and only with the candidate's permission. A background check (including identity, degree verification, and criminal records check) must be completed satisfactorily before any candidate can be offered this position.
APPLICATION DEADLINE
Although the search remains open until the position is filled, for full consideration by the Search Committee, candidates should submit all application materials by February 7, 2023. Finalists for the position will participate in campus interviews that will include a public presentation.
NOMINATIONS
Although nominations are not required to be considered for this position, leaders who know of outstanding candidates are welcome to submit confidential nominations by sending an email to CSUPuebloProvost@academicsearch.org. Be sure to include the nominee's full name, position, institution/ organization, and email address. Academic Search will notify people of their nominations, provide details about the position, and encourage them to apply.
Colorado State University Pueblo is committed to equal educational and employment opportunities and to eliminating all forms of discrimination, protected class harassment, sexual misconduct, intimate partner violence stalking, and retaliation. Furthermore, CSU Pueblo is committed to maintaining respectful, safe, and non-threatening educational, working, and living environments.
In furtherance of this commitment, CSU Pueblo does not discriminate on the basis of age, citizenship, creed, color, disability, gender, gender expression, gender identity, genetic information, national origin or ancestry, pregnancy, race, religion, sex, sexual orientation, veteran status, or because an individual has inquired about, discussed, or disclosed their own pay or the pay of another employee or applicant.
CSU Pueblo is an affirmative action/equal opportunity institution. It encourages diversity and provides equal opportunity in education, employment, all of its programs and activities, and the use of its facilities. The University takes affirmative action to employ qualified women, racial/ethnic minorities, protected veterans, and individuals with disabilities.
About Us: One of three campuses in the Colorado State University System, CSU Pueblo is a public regional, comprehensive university located about 100 miles south of Denver. A federally designated Hispanic-Serving Institution, CSU Pueblo currently serves more than 3,500 students—among the most diverse student bodies in Colorado. Described by the CSU System as "diverse, intimate, and supportive," CSU Pueblo serves the Southern Colorado region offering both undergraduate and graduate degrees in business, education, engineering, nursing, science, social sciences, arts, and humanities. Independently accredited by the Higher Learning Commission, CSU Pueblo also maintains specialized accreditation in many academic programs.
CSU Pueblo's campus, spanning more than 275 acres, crowns the north end of Pueblo, Colorado. Pueblo is a historically and culturally rich city of over 100,000 located in the heart of the state, along the Arkansas River near the Greenhorn Mountains in the colorful Pikes Peak region of Southern Colorado. Approximately 300 sunny days a year attract outdoor enthusiasts to a full slate of summer and winter recreational activities, encompassing water sports at Lake Pueblo, biking or running along Pueblo's beautiful river trail system, golfing, playing tennis, hiking or skiing in the mountains to the west, or just getting some sun. The nightlife venues feature local and national artists performing at the Sangre De Cristo Arts & Conference Center, dinner theaters, and local nightclubs. The city features shopping malls and a 14-screen theater approximately 2 miles from campus, and the Royal Gorge Bridge is less than an hour away. 
Back to Top