Shelby Bitz
Director, MAPS Center for STEM Support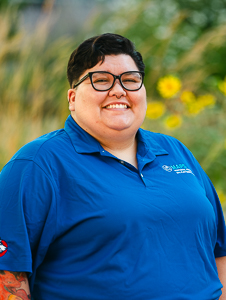 Contact Info
Office:
Life Science 124 (Inside Science Learning Center)
Bio
ABOUT ME
I am a late twentysomething Pueblo native that wants to make education equitable and attainable for my community.  When I'm not trying to talk everyone I know into going back to school, I'm buying books and vinyl, hanging out with my pets - 3 dogs, 2 cats - or drinking cold brew coffee. 
WHY CSU-PUEBLO
When I went to college, I left Pueblo.  Though those 4 years were important, I missed Pueblo deeply the entire time.  There's no other place in the world like it, and I am determined to show everyone the endless potential that lives here. 
Favorite Restaurants 
Mill Stop
Pass Key
Pueblo Dragon
Favorite Pastimes and Activities
Posting silly Insta stories of my pets
Hanging out in bookstores
Going through new music Friday playlists every week
Fun Facts
My favorite color is yellow.
The best vinyl I own is the Dirty Dancing soundtrack.
My love language is cooking for people (or buying them food). 
Not So Fun Facts
I'm nit-picky about the right way to load the dishwasher
At 5'2", I will ask anyone taller than me to grab stuff for me quite often.
I lose my keys at least once a day