Laura Clark, MS, ATC
Lecturer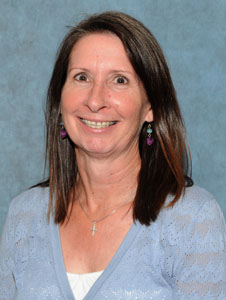 Contact Info
Office:
Massari Arena (PE) 261
Bio
Laura studied at the Pennsylvania State University where she earned her BS degree in Health Education-Athletic Training. She completed her MS degree at the University of Arizona in Athletic Training.
Laura has been a BOC certified athletic trainer since 1986. She has worked at Lehigh University, the University of Pittsburgh, Quincy University, Quincy Medical Group, Western Illinois University and several high schools. She has been an​​​ instructor in accredited Athletic Training programs for 14 years. Laura's hobbies are crafts of any kind (rubber stamping especially), cycling and all types of sports.