Jonathan Velasco, Ph.D.
Assistant Professor (Chemical Education)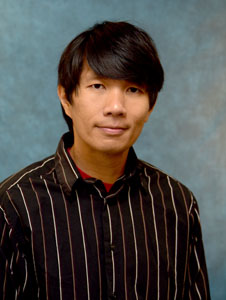 Contact Info
Office:
CHEM 226
Office Hours:
Bio
Doctorate in Chemical Education from University of Nebraska – Lincoln
Master of Science in Physical Chemistry from University of Texas – Pan American
Bachelor of Science in Physical Chemistry from University of Texas – Pan American
Research Interests
Students' Use of Academic Language – Language is an important aspect of chemistry education, as students are often called upon to not just familiarize themselves with vocabulary, but also to interpret and/or create graphs, charts, and equations. These latter forms of language in the chemistry classroom are encoded with various amounts of information that students must also negotiate in order to come to an understanding. Access to, and mastery of, this academic language of chemistry also affords them a status of membership within the scientific community as well as greater confidence in expressing their knowledge of the material. However, there have been several noted difficulties with students' acquisition of academic language; this is a critical issue in that students often learn the language as they learn the material, and language mastery is often related to student performance. Also, the inability to acquire academic language may be observed even in students whose native language is similar to the institution's, as the language of instruction may have the same native source but with its own unique forms that make it distinct. Our research involves the identification and classification of students' language use in terms of academic sophistication to better understand their level of understanding and aid in curriculum development.
Student-Teacher Interaction in the Chemistry Laboratory – The laboratory course is designed to reinforce the theoretical material, providing a compliment to the lecture course. Recent reforms to science instruction have caused a shift in how learning may be carried out in the undergraduate laboratory to provide a more authentic experience. This shift often involves laboratory activities and curricula that encourages scientific inquiry and exploration over adhering to set laboratory procedures. As such, the dynamics of in-lab conversation would change. Our research involves the documentation of student and teacher activities and interactions in chemistry laboratories through the use of observation protocols that provide accurate descriptions of laboratory behavior, through which laboratory courses may be examined and evaluated for the manner in which curricular objectives and instructional methods are implemented.
Publications
Velasco, J. B.; Knedeisen, A.; Xue, D.; Vickrey, T. L.; Abebe, M.; and Stains, M. (2016). Characterizing Institutional Practices in the Laboratory: The Laboratory Observation Protocol for Undergraduate STEM. Journal of Chemical Education, 93(7), 1191-1203. DOI: 10.1021/acs.jchemed6b00062
Velasco, J. B., and Stains, M. (2015) Exploring the Relationships Between Perceptions of Tutoring and Tutoring Behaviours: A Focus on Graduate Students Serving as Peer Tutors to College-Level Chemistry Students. Chemistry Education Research and Practice, 16(4), 856-868. DOI: 10.1039/C5RP00103J
Lund, T. J.; Pilarz, M.; Velasco, J. B.; Chakraverty, D.; Rosploch, K.; Undersander, M.; and Stains M. (2015). The Best of Both Worlds: Building on the COPUS and RTOP Observation Protocols to Easily and Reliably Measure Various Levels of Reformed Instructional Practice. CBE – Life Sciences Education, 14(2). DOI: 10.1187/cbe.14-10-0168
Griep, M. A.; Stains, M.; Malina, E.; and Velasco, J. (2013). Renovating Four General Chemistry Laboratory Rooms at the University of Nebraska – Lincoln. In L. O'Connell (ed.), Innovations and Renovations: Designing the Teaching Laboratory (pp. 75-90). Washington, DC: American Chemical Society.