Franziska Sandmeier
Associate Professor Biology
Contact Info
Office:
Life Sciences (LS) 244
Research Interests
I am interested in ecological and comparative immunology of reptiles, especially in ways in which eco-immunology and disease ecology can be integrated into the practice of conservation biology. Much of my research has focused on turtles and tortoises - primarily the Mojave desert tortoise (Gopherus agassizii). Different studies have explored ways in which extrinsic factors (e.g. season, climatic factors, heterogeneity of habitat, etc.), as well as intrinsic factors (e.g. gender, endo vs ectothermy, metabolic rates, phylogeny, etc.) may influence host-pathogen dynamics. Parallel projects have focused on the distribution and infection intensities of pathogens of the respiratory tract disease – as these appear to be ecologically relevant in terrestrial turtles and tortoises.
 Techniques used in my research include immunological techniques: ELISAs, Western blots, differential leukocyte counts, ELISpots, and include optimization and validation of these techniques for use in reptiles. We also use genetic techniques, including sequencing and quantitative PCR to detect and quantify potential pathogens, such as species of Pasteurella  and Mycplasma.
 I believe strongly in engaging students, volunteers, and the public in both research and outreach activities.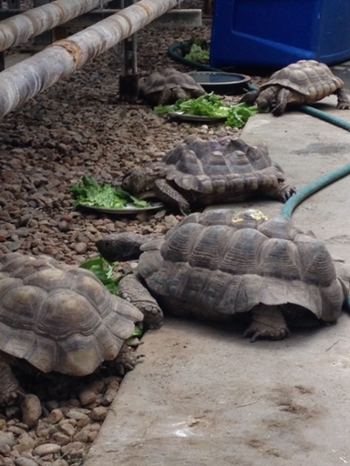 Research Positions:
 If you are interested in conducting research my lab as an undergraduate, a 3+ 2 student (see Department page for detail), or a MS student, contact me through email.
 See https://sites.google.com/site/francsandmeier/ for a list of past publications, as well as current and future research directions.