Aaron Alexander
Director, School of Creativity + Practice | Chair, Department of Art & Creative Media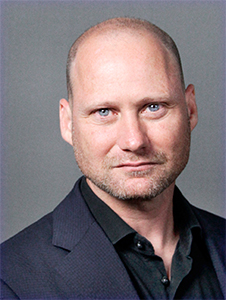 Bio
"Consider the idea that creativity is largely a practice of curiously exploring that which is unknown. In the School of Creativity and Practice, we use principles of visual communication rather than formulas to make visible that which is invisible.
If we are elective, our work leads to more questions than it answers. And so, I have often found that I am teaching students how to learn as much as what to learn.
The question I chase most in my preparation is: Can a student learn to be curious and creative? 
To this end, students and I work together as agents of change, addressing each creative challenge with focused curiosity. The most compelling works are routinely a result of a student incorporating observations generated from an ongoing dialog throughout the creative process.
The underlying goal is to guide students toward initiating an ongoing body of work that is profoundly personal and broadly understood. This process leads the student toward personal discoveries and that curiosity and creativity is part of our lives and that each work represents another step toward becoming an artist."
Aaron earned his Master of Fine Arts in New Media / Photography from the University of Cincinnati; college of D.A.A.P. and his Bachelor of Fine Arts in Photography from Savannah College of Art and Desgin (SCAD) . He joined the CSU-Pueblo Department of Art & Creative Media as Chair in August 2018.