Parents of Prospective Students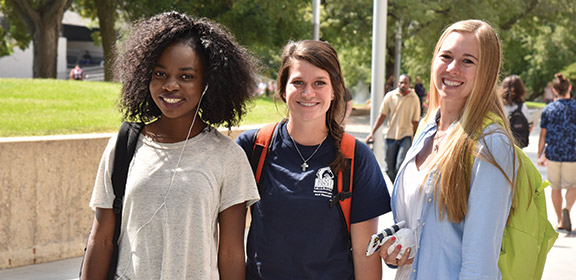 As a parent, you always want the best for your children, especially when they are away from home. We've assembled some helpful questions and answers to aid you and your children through this exciting time. If you don't find the information you're looking for, please feel free to contact us.
If you have questions about the application process or CSU Pueblo, contact the Admissions Counselor for your student's area or the Visitor Center.
2200 Bonforte Blvd.
Pueblo CO 81001-4901
University Operator: 719.549.2100
Admissions Office
Administration Building Room 202
Phone: 719.549.2462
E-mail: info@csupueblo.edu
Visitor Center
Visitor and Buell Communications Center
Phone: 719.549.2418
E-mail: visitorcenter@csupueblo.edu
Frequently Asked Questions
 

What is the average class size? What is the faculty to student ratio?

The average class size at CSU Pueblo is 25. Some freshman lecture classes can be larger, with up to 100 students, but any lab or English or math class will be closer to 25. Our faculty to student ratio is one staff member for every 18 students.

 

What does it cost to attend CSU Pueblo?

It is our policy to reduce the total amount of tuition and fees with financial aid whenever possible.  For a breakdown of undergraduate tuition and mandatory fees, please visit our tuition and fees webpage.

 

I will be paying my student's bill. How will I know how much it is?

A student can email you a copy of their bill, which is available to them via the web.

 

What type of meal plans are available?

A variety of meal plans are available which include combinations of meals in the Pack Cafe, which is cafeteria dining, and Thunderbucks which is discounted dining in any of the other campus dining locations. More information on dining services and meal plans can be found on the Auxiliary Services page.  

 

What kind of health care is available on campus?

We at the CSU Pueblo Wolfpack Wellness Center want to let you know that we are sensitive to the fact that your child is now making many decisions on their own. Making decisions about health issues can be confusing. Our staff is available to help guide them with their decisions.

 

How does my child know what resources are available on campus?

We offer a First Year Experience Course (FYE) that serves many purposes. First, the course is designed to interactively provide information about resources available to students. Second, life skills are fostered so as to provide a holistic approach to student development. Research indicates that students who take FYE courses have a higher rate of satisfaction with their college experience, graduation rates, and academic achievement.

 

What is FERPA?

The Family Educational Rights and Privacy Act (FERPA) affords students certain rights with respect to their education records. These rights include:

The right to inspect and review the student's education records within 45 days of the day the University receives a request for access.

The right to request amendment of the student's education records that the student believes is inaccurate.

The right to consent to disclosures of personally identifiable information contained in the student's education records, except to the extent that FERPA authorizes disclosure without consent.

The right to file a complaint with the U.S. Department of Education concerning alleged failures by Colorado State University Pueblo to comply with the requirements of FERPA.

 

When is a student protected by FERPA?

When a student turns 18 years of age or attends a post-secondary institution, the student, and only the student, may access, seek to amend, and consent to disclosures of his or her education records.

 

As a parent, what am I allowed to access under FERPA?

You may only access directory information if your son/daughter has not elected to block it.

 

Can my son/daughter grant me access to their education records?

If your son/daughter chooses to grant you access to their educational records, they may do so by filling out and submitting a "Consent for Release" form to the Registrar's Office. This can be a one-time release or a permanent release. A student can also choose to reverse a permanent release by coming in to the Registrar's Office and filling out appropriate paperwork.

 

For emergency purposes, how can I contact my son/daughter?

In an emergency, please contact the on-campus Pueblo County Sheriffs Office at 719.549.2373 and they can assist in contacting your son/daughter.

 

Where do I call with questions about FERPA?

Please call the CSU Pueblo Registrar's Office at 719.549.2462.