Meet The Team
Donna Souder Hodge, Ph.D.
Vice President of Operations & Advancement
Email:
Donna.Souder@csupueblo.edu
Phone:
719.549.2282
Dr. Souder Hodge is the Vice President of Operations and Advancement for CSU Pueblo. In 2018, she became the architect of CSU Pueblo's #VISION2028 strategic plan, a five-year, $34 million system investment. She has a Ph.D. in Rhetoric (2008) and, in 2017, she completed the MIT Sloan School of Management's Executive Program in Business Process Design Strategic Management. In 2019, she was accepted into the American Association of State Colleges and Universities (AASCU) Executive Leadership Program as an AALI Fellow. In 2021, she joined a cohort of higher education leaders in Harvard's Institute of Education Management, a year-long program from the Harvard Graduate School of Education. Over the past 20 years, she has authored, co-authored, and directed millions of dollars of grant funds from non-profit, state, and federal entities. 
Kim Wharton
Office Manager, Office of Organization Development and Advancement
Email:
Kimberly.Wharton@csupueblo.edu
Phone:
719.549.2312
Kim Wharton is an experienced Executive Assistant and has been with Colorado State University Pueblo for more than a decade. Kim served as the Assistant to the Dean of the Hasan School of Business for 5 years. As the Office Manager for the Office of Organizational Development and Advancement, Kim oversees annual budgets of more than $8 million, directs events, manages travel, and serves as a liaison for various advisory boards and campus initiatives.
Derek Lopez, Ph.D.
Associate Vice President of Operations & Advancement
Email:
Derek.Lopez@csupueblo.edu
Phone:
719.549.2535
Dr. Derek Lopez has secured and implemented over $22 million dollars in grant funds that have improved the capacity of higher education institutions to serve students and develop faculty and staff. Dr. Lopez serves on the national council of the Alliance of Hispanic Serving Institution Educators (AHSIE) and was selected as a Fellow to La Academia de Liderazgo's inaugural executive leadership program, developed by the Hispanic Association for Colleges and Universities (HACU). Dr. Lopez completed a Ph.D. in Educational Psychology from Stanford University in 2002. Today, his research and practice are focused on developing the capacity of Hispanic Serving Institutions to facilitate positive outcomes for students and the communities in which they reside.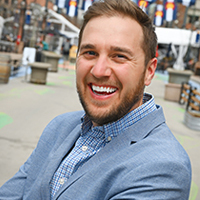 Alex Brady
Director of Advancement
Email:
Alex.Brady@csupueblo.edu
Phone:
770.842.1510
Alex Brady is a seasoned fundraising professional with over 11 years of experience supporting under-represented populations. He was the regional director in Colorado for Kimbal Musk's national nonprofit, Big Green, where he oversaw a staff of seven that implemented health programing for 30,000 k-12 students and was responsible for raising $1M annually. Prior to Big Green, Alex managed the Development & Alumni Department at the Denver campus of Johnson & Wales University. Alex was also a Metro Denver chamber leadership foundation's Impact Denver class of 2019, currently serves on City Year Denver's Board, has served on several other nonprofit boards, and earned a Bachelor's degree in Business Administration from the University of Vermont.
Keelan Bailey
Donor Relations and Prospect Development Coordinator
Email:
Keelan.bailey@csupueblo.edu
Keelan oversees collaboration, collateral creation, and stewardship for the CSU Pueblo Operations and Advancement team. Keelan also serves as a prospect researcher to inform conversations and collateral for prospective donors and engagement partners. In 2022, Keelan left his Creative Director position in the office of Marketing, Communications, and Community relations to join the Operations & Advancement team. During his time at CSU Pueblo, Keelan has served in various roles such as Creative Director and Assistant Director of Orientation, Major Events and Technology where he has helped foster collaboration across the CSU Pueblo campus and beyond. Keelan graduated from CSU Pueblo's Mass Communications program with a bachelor's degree in 2018. Then in 2021, he graduated with a Masters in Leadership with a Concentration in Student Affairs in Higher Education from the University of Colorado at Colorado Springs.