Foundation News - February 2019
2019 President's Club Soiree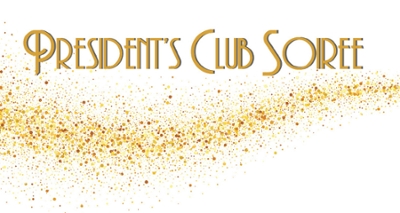 The Colorado State University-Pueblo President's Club was established to recognize donors who contribute $1,000 or more annually to CSU-Pueblo. The Leadership Circle was created to recognize lifetime contributions to the University. The 2017 New and Advancing members of the President's Club and Leadership Circle will be honored at the March 14, 2019 President's Club Soiree Soireeée.
This year's reception will be held at CSU-Pueblo Occhiato Student Center Ballroom featuring cocktails, hors d'oeuvres and the folk-jazz quartet, Blue Pepper. For more information, call Amber Shipley at 719.549.2307 or email amber.shipley@csupueblo.edu.
The President's Club Soiree is our chance to thank our most loyal and generous donors.
View Sponsorship Opportunities
---
2019 CSU-Pueblo President's Gala
View full-size Save-the-Date Card.
View Sponsorship Opportunities.
Colorado State University-President Dr. Timothy Mottet is pleased to present the 2019 President's Gala - a 1920s Speakeasy. This year's gala will showcase the grit and determination of Pueblo and our students to succeed. The evening will provide attendees with delicious food and drink, lively jazz, Dixieland and ragtime music and a chance to present Distinguished President's Medallions to some of our most deserving donors, partners and alums. This year's gala will feature Atlanta's own Blair Crimmins and The Hookers in the CSU-Pueblo Speakeasy.
The CSU-Pueblo President's Gala will be held Saturday, May 18 in the Occhiato Student Center Ballroom. Tickets are $125 each and sponsorship opportunities are available for Pueblo's premier gala event! This event sells out, so don't wait. Get your tickets now! Call Amber at 719-549-2307 for more information.