Foundation News - September 2018
I Love CSU-Pueblo Give Day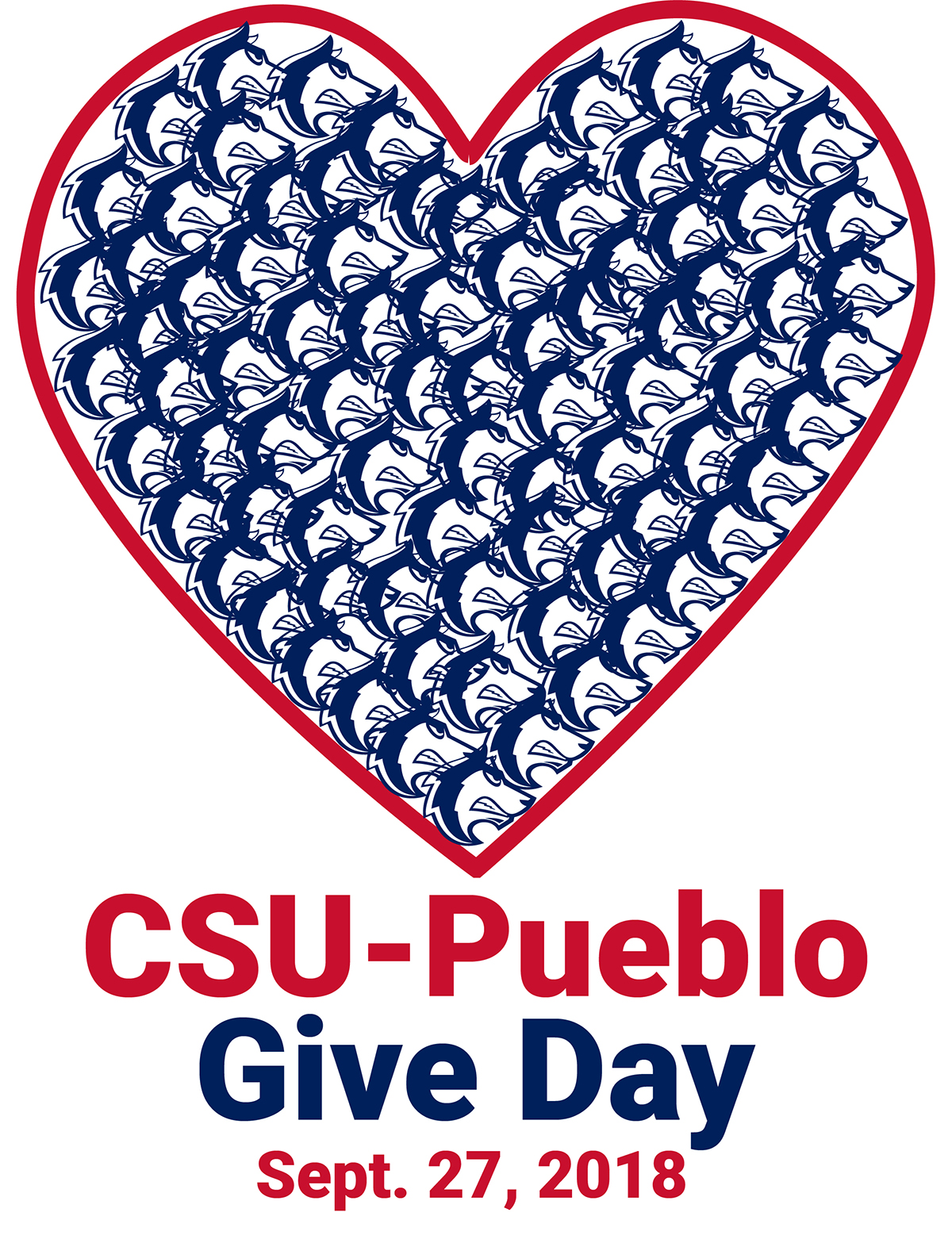 You can show the love to your favorite CSU-Pueblo project this September 27th through the third annual #LoveCSUPueblo Give Day. Here's what you need to know:
What is the #LoveCSUPueblo Give Day?
The #LoveCSUPueblo Give Day is a one-day-only fundraising event encouraging you to support one — or more — of 23 cross-campus projects. The third annual event will take place on Thursday, September 27, 2018. When you give a gift that is meaningful to you, one hundred percent of your gift will benefit the program designated. Better yet, the CSU-Pueblo Foundation will match it dollar-for-dollar (up to $1,000 per participating organization). All donations are tax deductible. After making a gift, spread the word and share via social media!
 
How do I decide where to give?
There are many giving opportunities at CSU-Pueblo. Choose one or more of your favorite participating organizations - each organization has the chance to win bonus funds for most alumni donors, most student donors, most faculty/staff donors, most overall donors, and most donors outside of Pueblo County:
Administrative Professional Council Textbook Scholarship Fund - The Administrative Professional Council (APC) is intended to support professional employees' children, spouses, and dependents to afford a college education.
ASCE Concrete Canoe Competition - We, the students of The American Society of Civil Engineers (ASCE), are attempting to design and construct a concrete canoe. It will be a life-size canoe, capable of racing, made completely of concrete. We invite you to help, and encourage us through financial donations, or offering a helping hand in the construction phase of the project.
Voices of the Colorado Chicano Movement Oral History Project -

Donations will make Chicano activist oral histories available as streaming video on the CSU-Pueblo website.

Associated Student Government Emergency Fund - This campaign will help fund the ASG Emergency Fund. This fund takes student applicants who have experienced financial surprising situations (medical, housing, etc).
"The Wolfies" Pack Athletics Student-Athlete Banquet - "The Wolfies" is our department-wide student-athlete banquet. Gifts received will help offset the cost of the meal for the student-athletes.
Automotive Industry Management: Driven to Succeed - Driven to succeed in a highly demanding career path requires the newest technology, equipment and instruction. Through donations, AIM can update these technologies and needed resources.
Chemistry Club Scholarship Fund - Support chemistry students ability to participate in scientific meetings – it can transform a student's career trajectory.
Classified Staff Student Scholarship Fund - The Classified Staff Student Scholarship fund donates up to $4,000 per year to family members of Classified Staff who are attending classes at CSU-Pueblo. The students have to apply every year to be considered for this scholarship. This scholarship will help students with the cost of their tuition and/or books for the year.
Career Closet - Career Closet is a program established by the Career Center that allows CSU-Pueblo students to obtain business attire from a wide selection of clothing donated by CSU-Pueblo faculty, staff, alumni, and other professionals. Students will get tips on how to dress to impress.
Observatory: Gateway to Space - The CSU Pueblo Observatory is a unique resource to students, astronomy laboratories, faculty and the community that must be maintained and updated.
Search and Rescue Equipment - Your support will help the CSU-Pueblo Search and Rescue Team purchase rescue equipment and ensure our continued service to Pueblo County.
Hasan School of Business Study Abroad Opportunity Fund - The Hasan School of Business believes that our students should travel and experience other countries, cultures, and business practices.
Academic Excellence: Bob Mitchell Memorial Scholarship - Contribute to student success through History internships and honor Bob Mitchell, co-founder of the Colorado Mental Health Institute at Pueblo Museum.
International Scholarship Fund - Funds will be raised in support of international students and their study costs associated with attending Colorado State University-Pueblo.
Lambda Chi Alpha Philanthropy Project - Funding raised through this campaign will go towards our philanthropic efforts and projects initiated by the fraternity.
Mass Communications: Student Journalism - The Today, the student-run newspaper and online news site at CSU-Pueblo, must raise printing costs for its bi-weekly publication.
Southern Colorado Association of Nursing Students (SCANS) - SCANS gives back to nursing students through a variety of events including; speakers, workshops, and educational opportunities.
Pack Pantry - The mission of the Pack Pantry is to alleviate food, hygiene, and school supply hardship on the CSU-Pueblo campus by providing emergency food, hygiene items, and school supplies to CSU-Pueblo students, faculty and staff in need.
Smithsonian Internship - The Smithsonian Internship allows CSU-Pueblo students to experience hands-on learning at the Smithsonian Institution in the summer.
Student Veterans of America Home of Heroes Scholarship - Student Veterans of America at CSU-Pueblo are raising money for the "Student Veterans of America Home of Heroes Scholarship."
CHASS Helping Hands Fund* - The CHASS Helping Hands Fund provides monetary assistance to students in the college who face unexpected financial hardships.
CSU-Pueblo General Scholarships* - Raising funds to provide financial assistance to CSU-Pueblo students.
CSU-Pueblo Annual Fund*- The CSU-Pueblo annual fund concentrates on raising unrestricted monies to support CSU-Pueblo students and University priorities.
 * Campaign not eligible for matching funds
What can I do to help get the word out about #LoveCSUPueblo Give Day?
When you make a gift, post about it or share the campaign(s) link on your favorite social media platforms to encourage your friends to give. Use #LoveCSUPueblo to join in the conversation about the Give Day and spread the word! Check out the social media kit for some sample posts and images to use for your profile pic or cover photo.
 
Do gifts by mail count?
You can always give by mail to support any of the #LoveCSUPueblo participating projects. Make sure to include in the memo that your gift is in support of the Give Day. The mailing address is:

CSU-Pueblo Foundation
2200 Bonforte Blvd.
Pueblo, CO 81001
If you have additional questions or feedback, please feel free to contact Sammi Mutz at sammi.mutz@csupueblo.edu or 719.549.2469.
We'll see you on #LoveCSUPueblo Give Day!
2018 Scholarship Award Update
CSU-Pueblo Foundation provides opportunity, promotes equity, and promises excellence to CSU-Pueblo students. CSU-Pueblo Foundation awarded more than 800 scholarships this fall totaling $2.5 million!
Scholarships are awarded based on a variety of factors:
Merit: Awarded based on GPA, ACT/SAT test scores, community services, etc.
Talent: Awarded based on music, art, or other talents; auditions are usually required.
Academic Year: Awarded based on academic year - freshman, sophomore, junior, senior, or graduate.
Major: Awarded to applicants majoring or minoring in certain program areas.
For more information on how you can establish a scholarship in your name or that of a loved one, contact Sandy Lundahl 719.549.2965 or sandy.lundahl@csupueblo.edu.
Friends & Scholars Luncheon
On November 6, 2018, this year's fortunate scholarship recipients and their generous benefactors will attend the annual Friends & Scholars Luncheon at the Occhiato University Center. More than 500 people are expected to be in attendance.
This event enables donors to directly connect with scholarship recipients and allows students to express their appreciation.
Wilbur Richardson Scholarship Fund
The Colorado State University-Pueblo Foundation is pleased to announce the establishment of the Wilbur Richardson Scholarship Fund by Patrick DeMartine of Windsor, CO.
The Wilbur Richardson Scholarship Fund will be awarded to students majoring in computer information systems or cyber security. The scholarship is both merit-based and need-based and is only available to full-time undergraduate students. The successful applicant must possess and maintain a minimum GPA of 3.0.
Wilbur Richardson was born and raised in Kansas during the Great Depression, fought in World War II, moved to Pueblo in 1955, and taught at Central and South High Schools, retiring from Southern Colorado State College, now CSU-Pueblo. The 93 year old plays golf, volunteers at the Weisbrod Aircraft Museum and his church, and most notably, drives an Uber.
Patrick "Pat" DeMartine established the fund because Richardson significantly contributed to his love of education when he attended Southern Colorado State College, now CSU-Pueblo.
"This scholarship exemplifies the impact our faculty have on the academic and professional development of CSU-Pueblo students. For a former student to personally create, and fund, a scholarship in the name of a faculty member shows the length Mr. Richardson went to engage and interact with students. We are proud to offer this scholarship in honor of Mr. Wilbur Richardson," said Foundation President and CEO Todd Kelly.
The CSU-Pueblo Foundation provides opportunity, promotes equity, and promises excellence to CSU-Pueblo students. The CSU-Pueblo Foundation awards more than 900 scholarships each year thanks to the generous contributions of individuals and companies who value education. For more information about supporting scholarships, contact the CSU-Pueblo Foundation at 719.549.2380 or visit www.csupueblofoundation.org.
For more CSU-Pueblo news, click here.
Click here
 to visit the CSU-Pueblo Foundation Home Page.