Athletics News - September 2018
Letter from New Athletic Director Paul Plinske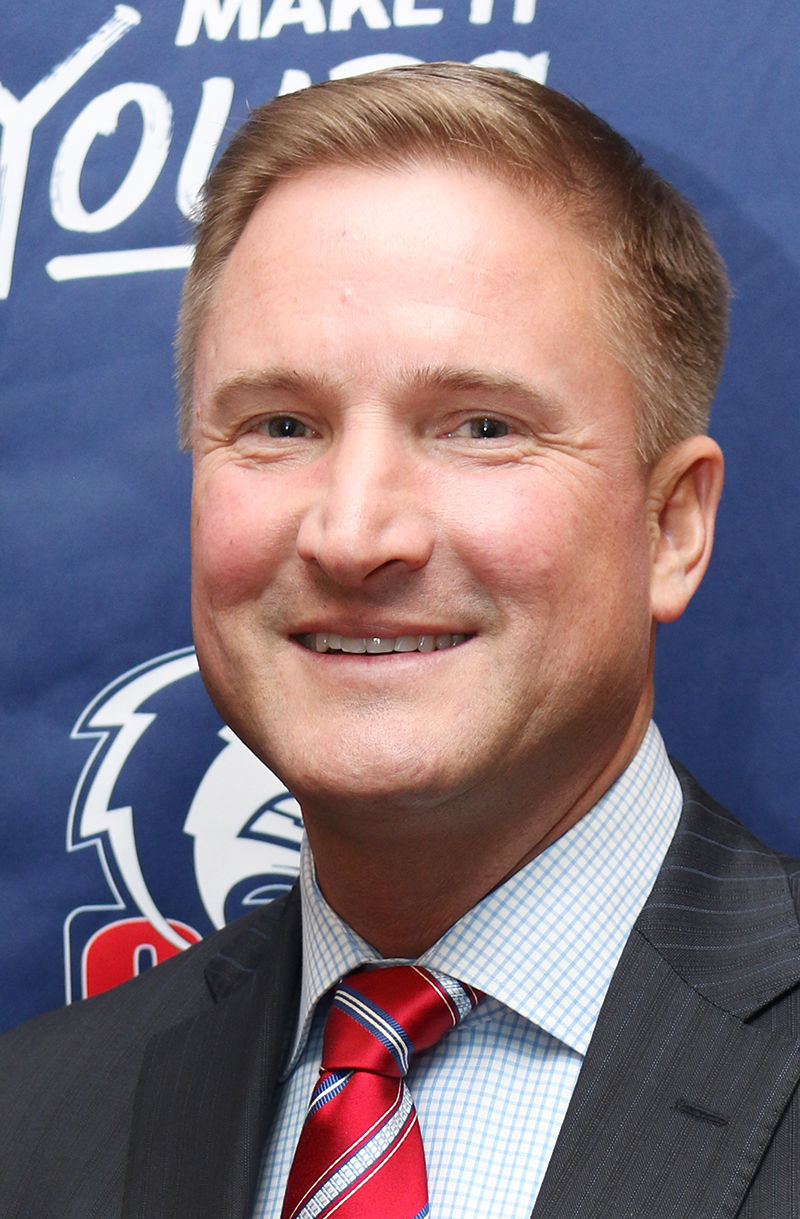 Greetings from the CSU-Pueblo Athletic Department!
It is my honor to serve as the Director of Athletics at Colorado State University-Pueblo. Following in the footsteps of so many great leaders, including legendary coach and administrator Joe Folda, is very humbling to me as I embark on this new professional opportunity.
Over the past three months, our coaches and staff have met with me in both one-on-one and in group settings to help us position our Athletic Department for a promising future. Together, we fully embraced our strategic planning process that produced our motto: DEVELOPING CHAMPIONS. We conducted a SWOT analysis (strengths, weaknesses, opportunities and threats) and engaged in high-level thinking about our mission, vision and plan for future success. This process helped us develop a list of priorities so that we can continue to provide our student-athletes with the best experience possible.
Moving forward, we aspire to be a Division II athletic powerhouse and the standard for holistic student-athlete development and academic opportunity. This will be emphasized in all we do to represent our great institution. In the coming year, it is my hope that you can watch us fulfill five essential steps as an Athletic Department: 
Build meaningful and trusting relationships with the citizens of Pueblo.
Develop our long-term strategic plan.
Establish our process for efficient day-to-day operations.
Prepare to attain greatness in the following areas:

Student-athletes achieving a 3.05 GPA or better.
Freshman student-athletes being retained above 70%.
Placing in the top 3 of the RMAC All-Sports Competition Cup.
Inspiring the Foundation's comprehensive fund-raising campaign.
Actively engaging in meaningful community-service hours.
On behalf of Pack Athletics, I would like to thank you for all you have done for our student-athletes, coaches and staff. Your support means the world to us as we focus on DEVELOPING CHAMPIONS at Colorado State University-Pueblo.
GO PACK!
Paul Plinske, Ph.D.
Director, Intercollegiate Athletics
Junior ThunderWolves Partnership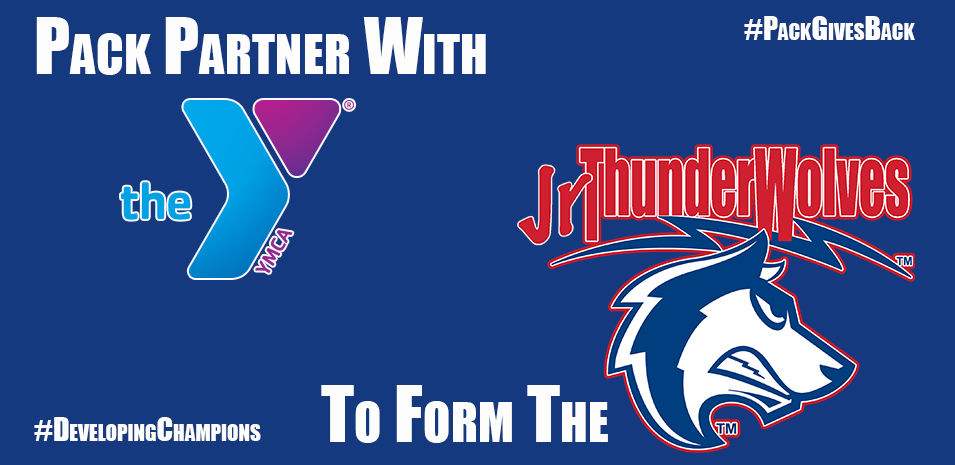 Colorado State University-Pueblo Athletics is proud to announce a new partnership with YMCA of Pueblo. This partnership is centered around the re-launch of the Junior ThunderWolves Program. Director of Intercollegiate Athletics, Dr. Paul Plinske, inked the deal as one of his first community initiatives since taking the reins of Pack Athletics in May. 
"Pack Athletics is honored to announce its partnership with the YMCA Pueblo," Plinske said. "CSU-Pueblo coaches, staff and student-athletes will enthusiastically embrace every opportunity to enrich the lives of our local youth through this new relationship. The YMCA is a fantastic family-centered organization that makes a dramatic impact in the Pueblo community. We are so grateful for this opportunity to make a difference."
The parties will create an exclusive program for YMCA youth aged 3-13 years of age and currently participating in YMCA Youth Leagues. The program will allow local youth to participate in YMCA Youth leagues while gaining experience and exposure to CSU-Pueblo. 
"The YMCA of Pueblo is excited to partner with Pack Athletics to better serve our community," said YMCA President/CEO Janelle Andrews. "The knowledge and expertise of CSU-Pueblo's coaches, staff and athletes will only enhance the work we do at the Y to ensure every child in Pueblo reaches their full potential. It is through like-minded partnerships like this that Pueblo will grow stronger together."
As part of this program, youth participants will come to campus and participate in various events related to their specific sport at ThunderWolves athletic events. CSU-Pueblo will send coaches and student-athletes to the YMCA in Pueblo to conduct sports clinics and programming.
"CSU-Pueblo Athletics is excited to re-introduce the Junior ThunderWolves program in partnership with YMCA of Pueblo," said Director of Marketing for Athletics, Haley Sue Robinson. "This is a great way to connect the younger generation of athletes in our community to our student-athletes here on campus. We're excited to welcome the YMCA to campus for our athletic events and support the Junior ThunderWolves with their own competitions, as well with camps, clinics, and mentorship."
The University mascot (Wolfie) and student-athletes will be on-hand at various YMCA events to encourage and support youth in their sports. The program will allow for co-branding between the parties, opportunity to share resources about each party and will provide a positive experience for local youth.
2018 CSU-Pueblo Athletics Hall Fame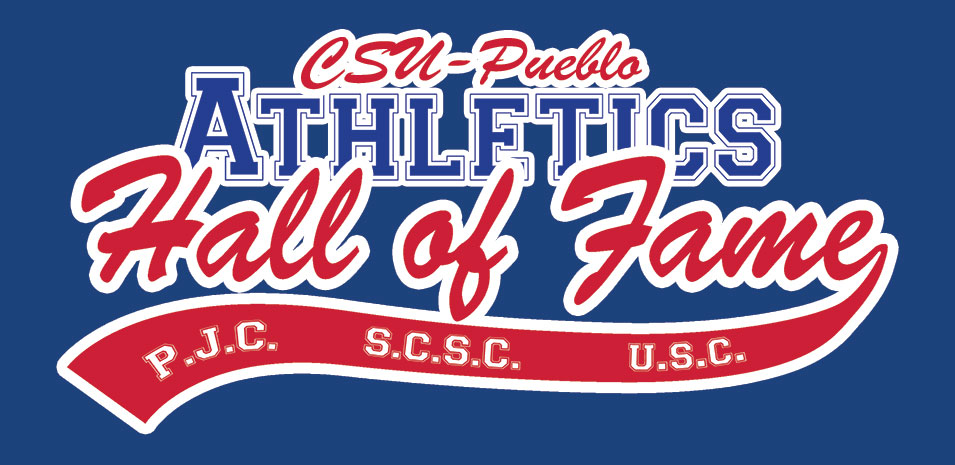 Five former student-athletes, a longtime coach and special contributor and a group of program-changing women's basketball teams shape the 2018 class of the Colorado State University-Pueblo Athletics Hall of Fame, which will be honored at a breakfast and the homecoming football game Sept. 29.
The Class of 2018 will be recognized at the Ninth Annual Hall of Fame Induction Ceremony at 10 a.m. Saturday, September 29th at the Ochiatto Student Center Ballroom on the CSU-Pueblo campus. Tickets to the breakfast, featuring alumnus and community leader Mike Salardino as emcee, are $15 per person. Kids 12 and under are $10 each. To reserve your spot, call Haley Robinson in the Athletics office (719)-549-2254.
The inductees will also be introduced at halftime of the Homecoming football game between the ThunderWolves and South Dakota School of Mines and Technology, which kicks off at 2 p.m. at the Neta and Eddie DeRose ThunderBowl. The inductees will also attend the CSU-Pueblo Alumni Foundation Tailgate on rooftop of the Leomiti Warriors Center beginning at 12 p.m.
National Champion Mannie Garcia of the wrestling team leads the group of student-athletes in 2018. Twenty years after Garcia was crowned a national champion, men's soccer standout Robert Kinsey was an All-American in 2011. Pepper (Mahon) Whittlef guided the volleyball team to a NCAA regional appearance in 1996, while 40 years earlier Eugene Poston was dominating the hardwood for Pueblo Junior College. Finally, Danita Wyatt helped get the women's track and field program restarted with an All-American honor in 2011. 
Joe Folda retired in May after a 31-year stint at University of Southern Colorado and CSU-Pueblo. Starting as a men's basketball coach in 1987, Folda became the full-time Director of Athletics in 2005 after a couple terms pulling double duty as head coach and AD. He enters the Hall of Fame he helped launch in 2008.
The women's basketball team has climbed to new heights in the past few years, but where it began was in 2006 when the ThunderWolves started a run of four Rocky Mountain Athletic Conference Tournament Championships in five years. The 2006 team also reached the NCAA Division II Tournament for the first time in program history. The women's basketball team has missed the NCAA Tournament just twice since that season. 
Pack Men's Tennis Win Third RMAC Brechler Award
The Brechler Awards recognize the conference's top team grade point average (GPA) in each of its 23 sports. Grades were used from the 2017-18 academic year. All student-athletes that were on the institution's NCAA eligibility list were included in the teams' GPA calculation. The team GPA is calculated by dividing the total quality points for each semester by the total number of credits for each semester. 
The Rocky Mountain Athletic Conference has announced the 2017-18 Brechler Award Winners and in process handed the Colorado State University-Pueblo men's tennis program their third honor in six years and second straight recognition.
The men's tennis program, coached by Mark Schleif, combined for a 3.473 GPA in 2017-18 to earn the honor. The Pack also won in 2016-17 and 2012-13, the first year of the award. The women's tennis program were winners in 2014-15 under Schleif. 
The ThunderWolves went 11-15 this season and were ranked as high as No. 42 in the Intercollegiate Tennis Association (ITA) NCAA Division II rankings. The Pack went 3-3 in RMAC play to earn the No. 3 seed in the RMAC Tournament. 
The award is named after Paul W. Brechler, a former RMAC Commissioner (1976-1990), who along with wife Wanda, were the first inductees into the RMAC Hall of Fame. Paul was also the former athletic director of the University of Iowa and served as Commissioner of the Western Athletic Conference (WAC).
Each team will be presented with a plaque at the 2018 RMAC Hall of Fame and Awards Banquet on Friday, July 13 at the Colorado Springs Marriott Hotel. For more information on the event, click here.