Alumni News - May 2018
Homecoming 2018 - Save the Date(s)
Homecoming events hosted by the Alumni Association will be held Tuesday, September 25th – Sunday, September 30th. Additional events and details will be added early summer. Information available on CSU-Pueblo Alumni Association website: https://www.csupueblo.edu/alumni/events/; and on social media. 
Unless otherwise noted, if you have questions or would like to register for Homecoming, contact Tracy Samora, Director of Alumni Relations at 719.549.2858 or tracy.samora@csupueblo.edu.
TUESDAY, SEPTEMBER 25
Teacher Tuesday – Teacher Education Alumni Event
Professional Development/Networking
5 p.m. (tentative), Occhiato Student Center
WEDNESDAY, SEPTEMBER 26
Donuts & Coffee Break with Students & Alumni
8-10 a.m., Occhiato Student Center lobby, near fireplace
Communication & Rhetoric and Forensic & Debate Alumni Conversation Salon
5:30 p.m., Occhiato Student Center
THURSDAY, SEPTEMBER 27
I Love CSU-Pueblo Give Day
An online and on-campus party where the way to attend is to make a gift to the University.
President's Leadership Program Alumni Reception
FRIDAY, SEPTEMBER 28
Baseball Alumni Golf Tournament
9 a.m., Elmwood Golf Course
Mass Communications Alumni Mixer
4 p.m., Buell Communications Center
Howlin' House Party and Homecoming Pep Rally
Food, drinks, games, family-friendly
5:30 – 8 p.m., Occhiato Student Center Ballroom
Baseball Alumni Dinner
ASG Bonfire
SATURDAY, SEPTEMBER 29
Marching Band/Music Alumni
Activities for marching band/music alumni
Athletics Hall of Fame Induction
10 a.m., Occhiato Student Center Ballroom
Tickets are required, call 719.549.2711
Baseball Alumni Game
5th Annual Engineering Alumni Open House and Breakfast
9:30 a.m., 1st floor Technology Building
Alumni Association/Friends of Football Community Tailgate
Noon, on rooftop deck at Neta & Eddie DeRose ThunderBowl
Tickets are required
Pack Football vs. South Dakota Mines
2 p.m. kickoff
Tickets are required
SUNDAY, SEPTEMBER 30
Alumni/Family Brunch
10 a.m., Occhiato Student Center
RSVPs are required
Alumni Art Show, Fine Arts Gallery, Hoag Hall
Distinguished Alumni - Roni Capin Rivera Ashford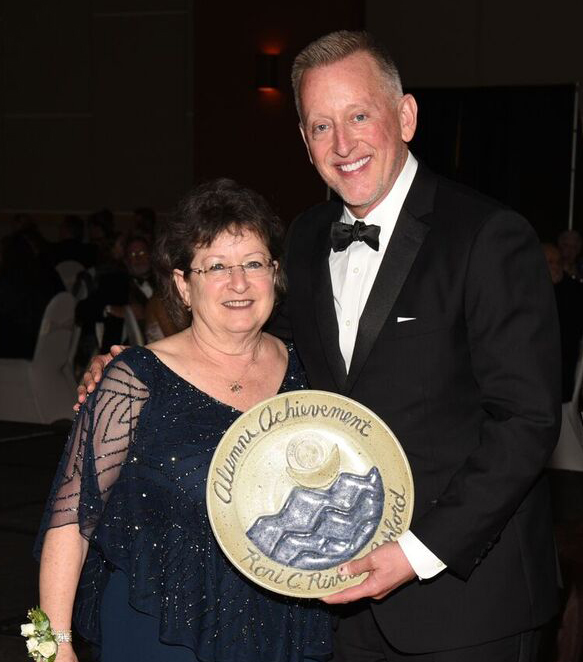 Roni Capin Rivera-Ashford (A74) accepted the medallion for Distinguished Alumni Achievement at the Colorado State University-Pueblo President's Gala on Saturday, May 19. Rivera-Ashford earned a Bachelor of Arts in foreign language in 1974 from then Southern Colorado State College. Rivera-Ashford is an award-winning international bi-lingual author who recently penned a book based on the award-winning Pixar movie, Coco.
Belmont and Haaff Elementary School third graders received a visit, and an autographed book, from Rivera-Ashford — a one-time schoolteacher who went from penning love poems to her childhood boyfriend (and now husband) to having her name inextricably linked with one of the largest entertainment companies in the world.
While the "Coco" connection was a strong selling point, the Belmont third graders obviously took Rivera-Ashford's overriding message to heart.
"I learned today that to make it, you should never give up," Zayden Martinez said. "And that's for anything in life. I don't want to be a writer but since I already play football, I'd like to play more. And that takes a lot of practice, just like writing."
Born to a pioneering Jewish family, she grew up in Nogales, Ariz, on the U.S.-Mexico border and now resides in Tucson. Roni's great-grandparents came to the U.S. as immigrants from France, Poland, Romania, and Russia. Her stories come from her childhood days growing up in the Sonoran Desert, in a bilingual, multicultural world where she still lives and writes.
Rivera-Ashford has spoken Spanish and English from birth and sometimes dreams in Spanish, too. She was a bilingual pre-school and elementary teacher and translator/interpreter for nearly 30 years. She also taught Pima College Extension night courses, earned her Librarian's Endorsement at the University of Arizona. Roni now spends some of her time presenting family literacy, cultural awareness, and diversity appreciation workshops in connection with her writing.
Her stories and books have been connecting and preserving families, generations, cultures, and their histories for many years. Her ability to relate to children and adults, in English and Spanish, is another of her gifts as evidenced by the more than 75,000 books already sold. Roni was selected as the 2009 Winner of the Judy Goddard/Libraries, Ltd. Award for an Arizona Children's Author. Published in 2015, My Tata's Remedies received nearly a dozen national, international, and state awards, including two first-place bilingual awards from the International Latino Book Awards. It was this award that brought her children's books to the attention of Disney editors.
Welcome to the Alumni Association Class of 2018
CSU-Pueblo was proud to welcome back accomplished alumna, Megan Matousek, A05, to provide the commencement address to the Class of 2018. Megan is employed with Lucasfilms, Industrial Light and Magic, and has worked on numerous films including the latest in the Star Wars franchise, "Solo – A Star Wars Story", out this May. It was quite fitting that Megan concluded her address with the line, "You earned the lightsaber, now how are you going to use it? For light? Or for dark?"
CSU-Pueblo's Alumni have access to many benefits including discount cards providing discounts to several southern Colorado businesses, reduced auto insurance rates, discounted access to the CSU-Pueblo Student Recreation Center, and access to the campus Career Center and Library.
May the Force be with our newest members of the Alumni Association as they venture into the world.
Football Alumni Weekend
Despite a rainy evening which shortened Pack Football's Spring Football Game, nearly 100 football alumni spanning multiple decades came together to support their alma mater and reconnect with fellow alumni. They enjoyed a sneak peek at Pack Football for the 2018 season, along with dinner and a round of golf at Walking Stick Golf Course.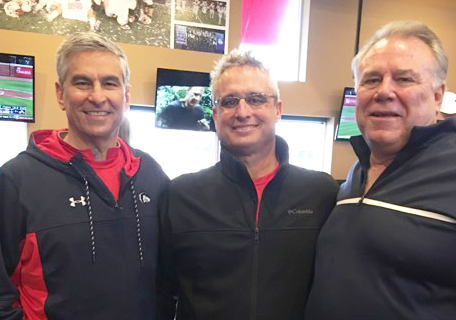 REMEMBER PACK FOOTBALL'S HOME OPENER IS SATURDAY, SEPTEMER 1ST VS. DIXIE STATE, KICKOFF AT 6 P.M. – ALUMNI TAILGATE BEGINS AT 4 P.M.
Alumni Teacher of the Year and Alumni Educator Hall of Fame Honorees
Over 100 attendees gathered at the Pueblo Country Club to celebrate this year's Alumni Teacher of the Year and Alumni Educator Hall of Fame honorees, (see attached photos). CSU-Pueblo is proud of our over 2,200 Teacher Education alumni; and of those, 1,700 have stayed in the state of Colorado.
Hall of Fame
David Hazlett, A78 & A80
Dr. Colleen O'Neil, A96
Tracy Vinci, A87
Teacher of the Year
Mitch Mueller, A11
David Hazlett, A78 & A80
Drew Hirschon, A07 & A18
Associated Student Government Alumni Reception
The annual Associated Student Government (ASG) Alumni Reception hosted nearly 30 ASG alumni, our best turnout ever! This event is held one-hour prior to the cocktail reception for the annual President's Gala. Thank you to Chris Turner, A01, and Steve Titus, A11, for hosting this annual event and for also sponsoring seats at this year's President's Gala for ASG alumni to attend the event.
Future ThunderWolves
There are many camps being offered this summer through Pack Athletics for your future ThunderWolves; including men's and women's basketball, football, softball and volleyball. For more information and to register, visit: www.gothunderwolves.com
For more CSU-Pueblo news, click here.
Click here to visit the CSU-Pueblo Alumni Association Home Page.