Academic News - December 2018

CSU-Pueblo president, Timothy Mottet reveals a bold new vision that repositions the university as the people's university. Vision 2028 honors the city it is located in and reclaims a label once used to describe regional comprehensive universities. According to CSU-Pueblo President, Timothy Mottet, "Our new vision recommits us to people and community, which reflects our DNA and provides us with an opportunity to reimagine what a university and community can accomplish together. We want our partnership to reposition us in Colorado and the Southwest United States by 2028, which is home to 90% of our students. It's going to take a decade to transform the university."
OUR VISION: To establish Colorado State University-Pueblo as the people's university of the Southwest United States by 2028.
The CSU System Board of Governors anticipates receiving a multi-level funding strategy from CSU-Pueblo once an implementation plan for the new vision is in place. This plan will include system monies, external investments, internal realignments, comprehensive campaign support, and other opportunities for long-term investment in CSU-Pueblo's growth. Tony Frank, Chancellor for the Colorado State University System, is enthusiastic about the future of CSU-Pueblo. He explains, "I am very excited about the new CSU-Pueblo vision and mission. Being the people's university for the state of Colorado and across the Southwest United States is both ambitious and inspiring—two qualities I respect in the vision moving forward."
With a new vision and mission in place, Mottet believes that the implementation process will differentiate the campus in a crowded higher education marketplace and allow CSU-Pueblo to take a leading role in creating a university-going culture in southern Colorado. "Work is our heritage in Pueblo and on our campus. As an integral part of the Colorado State University System, we must take a lead in helping the state of Colorado serve its citizens and begin to close the attainment gap for our first generation, minority students — the fastest growing population in the state," said President Mottet.
OUR MISSION: CSU-Pueblo's success will be measured by the resilience, agility, and problem-solving abilities of our diverse student population, and the ways in which our graduates are able to navigate work in a rapidly changing world.
"This is an exciting time to be a part of CSU-Pueblo," says Donna Souder Hodge, architect of the #VISION2028 process and former Special Assistant to the President for Visioning. In an expanded role as the university's Executive Director for Organizational Development, Donna and a team will work with campus stakeholders and community partners in order to move campus visioning forward while continuing ongoing, proactive work on grant-funded projects, programs, and capacity-building initiatives for CSU-Pueblo.
According to Souder Hodge, "We have not only identified opportunities for improvement and advancement, we have generated buy-in and participation from stakeholders on our campus and throughout the region. We envision our campus being a change agent for regional comprehensive, Hispanic Serving Institutions across higher education and for southern Colorado."  
OUR VALUES: CSU-Pueblo is dedicated to interdisciplinary learning and entrepreneurship that elevate our people and our community, create educational opportunities, foster unique collaborations, and support inclusion, access, and affordability as a gateway to the world.
In order to help students navigate work in a rapidly changing world, CSU-Pueblo is committed to developing systems and competencies that allow students to have a meaningful impact on their work, their families, and their communities. "The new vision strengthens the university's commitment to Pueblo and the region, and the mission statement provides sharp focus on student success – including the development of much needed entrepreneurial and professional skills," explains CSU Chancellor Frank.
To find out more about #VISION2028, contact Dr. Donna Souder Hodge Executive Director for Organizational Development, Office of the President, Administration 301, at 719.549.2282, or via email at donna.souder@csupueblo.edu.
---
CSU-Pueblo & Pueblo Community College Sign Articulation Agreement
By John Pompia, The Pueblo Chieftain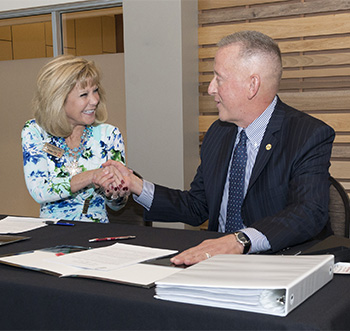 A long-standing partnership between the city's two institutions of higher learning just got stronger and broader, with students the ultimate beneficiaries.
On Tuesday at the Occhiato Student Center on the campus of Colorado State University-Pueblo, Tim Mottet, president of CSU-Pueblo, and Pueblo Community College President Patty Erjavec signed expanded articulation agreements between the two institutions -- pacts that refined nearly 60 transfer guides designed to make the transition from a PCC associate degree to a four-year credential from CSU-Pueblo more seamless.
The guides, which succinctly spell out the coursework required for a harmonious transfer, were developed over several years time through a collaborative effort involving the two presidents, faculty and staff from both schools.
The guides apply to a broad spectrum of fields, including arts and humanities, communications, science and mathematics, health sciences, engineering, construction management, business, computers and cyber-security, education and social sciences.
"This isn't a win for Dr. Mottet or myself, or quite frankly, any of us in this room," Erjavec told a gallery of about 50. "This is a big win for our students. For our students to be able to have a seamless transfer from a two-year to a four-year institution is really what student success is all about.
"And that's really what has driven us to come to this day."
The signing of the articulation pacts comes on the heels of last week's launch of a campaign to establish CSU-Pueblo as "The People's University of the Southwest United States" by 2028.
The two action steps, Mottet said, are intertwined.
"The foundation of what that vision means to us is access and affordability," Mottet said. "And today is another way of developing a set of systems that will ensure access and affordability for a group of students that we take great pride in serving.
"Those are under-represented students, students who are first generation, active military, veterans, non-traditional students. These are populations that both of our institutions serve, and serve very well. And today it's about formalizing those agreements and making that possible."
Mottet referenced a recently received $3.7 million Title V Grant as "monies earmarked toward transfers. The whole initiative is called LA CALLE (Communities Achieving Lifelong Learning Engagement) -- the road and the pathway -- and this is about increasing transfers from not only the community college system but other universities.
"So today is really a culmination of a lot of events going on to make sure that this pathway, as Patty mentioned, is seamless."
The bottom line, Erjavec added, is that the agreements signed Tuesday will help students become credentialed contributors to society.
"The important thing is that students come and finish that degree and go out into our workforce as highly educated, highly skilled individuals," she said. "This is really what we all want if this community is going to continue to grow and prosper."
The approved transfer guides will be reviewed annually, with the agreement itself reviewed every five years.
---
CSU-Pueblo School of Nursing to offer first Doctorate Degree: Doctor of Nursing Practice
On November 14th, Colorado State University-Pueblo provost, Mohamed Abdelrahman, announced that Colorado State University-Pueblo will begin offering its first Doctorate degree, the Doctor of Nursing Practice through its School of Nursing, beginning immediately.
"The Doctor of Nursing Practice is a pivotal point in the history of our University," said Abdelrahman. "We look forward making a significant contribution to the rural health needs (and more) of the state of Colorado," Abdelrahman added.
The addition of a doctorate program at CSU-Pueblo helps move the university towards its goal of being the peoples university of the Southwest by 2028 and fulfilling the ever increasing health needs of our state.
"A great deal of time and effort went into developing the program to ensure our students are well equipped to meet the growing healthcare needs of Colorado and beyond," Abdelrahman said. "I am thankful to the faculty and staff, and the CSU system for their strong support of this effort," Abdelrahman noted.
CSU-Pueblo nursing faculty began developing a Doctor of Nursing Practice (DNP) degree for nurse practitioners when a state senate bill was signed in 2012 allowing CSU-Pueblo to offer doctoral degrees. The DNP program went through a variety of approvals by internal and external entities, including most recently, the Higher Learning Commission (HLC), which is the official accrediting body for CSU-Pueblo.
"The clinical doctorate degree is considered a terminal degree in nursing practice. Students enrolling in the new degree program come in as baccalaureate prepared registered nurses and graduate with the skills to enhance practice excellence through evidence-based practice methodology, system leadership, health policy, and interdisciplinary collaboration," said CSU-Pueblo associate dean of nursing, Joe Franta.
Students will earn their doctorate degree in three and one-half years. The DNP will develop and/or validate expertise in one of four areas of specialties; Adult/Gerontology Acute Care, Adult/Gerontology Acute Care & Family and Psychiatric-Mental Health advanced nursing practice for the nurse practitioner and a population focus for those with a master's as a Nurse Educator. 
"CSU-Pueblo offers the only dual emphasis Adult/Gerontology Acute Care/Family Nurse Practitioner in Colorado," said Franta.  "This new degree is an excellent fit for the increasing healthcare access needs especially in Southeastern Colorado."
The DNP will be a great step forward for individuals who want to become leaders in advanced nursing roles and make changes at the systems level that will impact health care at the local, regional, and national levels. The program is seeking candidacy with the Accreditation Commission for Education in Nursing.
"The curriculum is designed to incorporate innovative, inter-professional, and focuses on evidence-based health care in rural settings," said CSU-Pueblo associate professor of nursing, Susan Belport.  "The program maximizes the use of hybrid delivery methods for enhanced learning and increased course accessibility," said Belport. 
"In the 2015, American Association of Colleges of Nursing's (AACN) task force report, DNP practice-focused graduates are prepared to generate new knowledge through innovation of practice change, the translation of evidence, and the implementation of quality improvement processes in specific practice settings, systems, or with specific populations to improve health or health outcomes," added Belport.
"A Doctor of Nursing Practice will provide additional community health support to the more than five decades of service to health care in the region that CSU-Pueblo nursing graduates have provided," said Belport.
The CSU-Pueblo School of Nursing has been educating professional nurses to meet the health care needs of diverse populations since 1964. Over the past 50+ years, the department has accomplished numerous milestones and has become an integral part of the Pueblo community. CSU-Pueblo has conferred more than 2500 bachelor's degrees and 150 master's degrees over the last five decades.
According to CSU-Pueblo dean of the College of Education, Engineering, and Professional Studies, Sylvester Kalevela, adding a Doctor of Nursing program will bring recognition to the community and university that nursing is on the move as a leader. The demand for nurses and nurse practitioners is continuing to be a national concern with Business Insider (December 2017) listing Nurse Practitioners as the one of the best 21 jobs of the future for 2024 with an estimated increased need of 44,700 new positions.
"Adding the Doctor of Nursing Practice is a status that will not only enhance our nursing program but the academic standing of the university as well," said Kalevela.
"Offering the DNP, we will be better positioned to address those local and subsequent national needs opening doors to the university leadership, community partners, and other schools of nursing," Franta said. "By offering the University's first doctoral program, the School of Nursing will stimulate the local, regional, and university community and be a point of pride for students."
---
CSU-Pueblo listed as a Best Value MSN-Family Nurse Practitioner Program in Colorado
by GraduateNursingEDU.org
Becoming a family nurse practitioner can be as much of a calling as it is a profession. As a registered nurse with the highest degree of training combined with direct experience in the practice of family medicine you will experience some of the most intimate, rewarding, and challenging work in the entire scope of advanced practice nursing.
When you're the kind of person who is drawn to such work, to the difficulties and rewards of working with individuals and families in their hours of need, it's easy to forget that there are some serious monetary obstacles you're going to need to clear to get into the profession in the first place.
Becoming a family nurse practitioner means earning at least a master's degree, over and above what it took you just to become a registered nurse. According to U.S. News & World Report, the cost of a Master of Science in Nursing is typically within the range of $35,000 and $65,000, with some considerably higher… not to mention the time it takes to go to school and the impact that may have on your ability to work and earn an income while you're doing it.
All of this adds up to the fact that it is really important to find an affordable program to enroll in.
A Valuable Education Doesn't Have to Cost a Lot of Money
By the most recent count there are 328 accredited MSN-FNP programs nationwide. With that big of a haystack it's hard to know where to start looking for the needle, so we've made it easy for you. We've analyzed every one of these schools, and the first filter we started with was quality.
Fortunately, there are a lot of hidden gems out there in the MSN department. What you are looking for isn't a program that is cheap; it's a program that is valuable: one that offers the best possible education for the money.
We did the work required to help you find exactly those programs, ensuring quality is given as much attention as cost to ensure that what you find here are only MSN programs that offer an exceptional value.
Every one of our selections are accredited by the Commission on Collegiate Nursing Education (CCNE) or the Accreditation Commission for Education in Nursing (ACEN). In fact, we believe so completely in the importance of attending a program that teaches to the highest and most contemporary standards, we only compared price points among this elite class of programs, and ignored the rest.
These two commissions use stringent evaluation processes to investigate nursing master's programs and assess them according to rigorous, industry-driven criteria. Reviewing curriculum and instructor credentials, and through on-site visits and observation, accreditors look at things like industry partnerships, faculty selection and training, record-keeping, and even complaint processes and appeals with an eye on how well the school supports a completely student-centered learning experience that delivers results.
Only the highest quality programs that meet all of the relevant standards receive accreditation, a process that can take years to achieve.
To read the full article, click here.
---
CIS Students Prepare for Cyber Security Contest
Nationally ranked CSU-Pueblo NCL (National Cyber League) Cyber security team, the "CyberWolves" (#9 in the U.S. out of over 265 University teams) will begin preparing for the 2018 competition. Last Fall, CSU-Pueblo had the top ranked national NCL champion, Ryan Garbars, on the CyberWolves team scoring #1 in the nation in the Regular (individual) NCL games out of 2,423 competitors from 68 institutions. Returning for his senior year, Ryan will be competing again for this 2018 Fall NCL season.
The CyberWolves are working together every other Thursday evening to prepare for this Fall's 2018 NCL competition. "Our CSU-Pueblo CIS students are generating an excellent reputation in Colorado for being future tech-savvy, hardworking and cyber security-oriented professionals," said Dr. Roberto Mejias, Ph.D., Associate Professor of Computer Information Systems, Director, Center for Cyber Security Education and Research (CCSER) and CSU-Pueblo NCL coach. There are approximately 15 CSU-Pueblo students registered for the upcoming 2018 Fall NCL cyber competition.
Mejias said many of the national cyber security competitors use pseudonyms or anonymous pen names or "handles" during these national NCL games. However, Mejias asked the University's "Cyber Wolves" students to use the suffix "CSU-Pueblo" in order to generate recognition for CSU-Pueblo as a U.S. National Security Agency Center of Academic Excellence (NSA-CAE) designated institution. And it certainly did, as students from all over Colorado are now calling and inquiring about the Computer Information Systems (CIS) and Cyber Security program at CSU-Pueblo.
The Center for Cyber Security Education and Research (CCSER) at Colorado State University-Pueblo serves as an interdisciplinary center to provide program guidance, training and research support in the areas of Cyber Security, Information Assurance and Cyber Defense. The CCSER encourages and fosters collaboration and outreach opportunities for CSU-Pueblo students, faculty, interested programs and all other private and public institutions.
ABOUT THE NATIONAL CYBER LEAGUE (NCL):
As the shortage of qualified employees in the cybersecurity industry continues (there is a predicted shortfall of 1.5 million cyber security professionals in the U.S. workforce alone (Anderson, 2016) )
the National Cyber League (NCL), a 501(c) non-profit organization is helping to create excitement and interest for careers in cyber security.
NCL is unique in that it requires participants to apply knowledge and skills to solve real world problems, which especially helps in various I.T. and cyber security certification exams. NCL Players are put into the role of a cyber analyst and are responsible for code breaking, identifying vulnerabilities and investigating forensic evidence for potential cyber security threats. NCL players are often required to decode or crack an encryption scheme developed by an adversary or threat. Or NCL players will also be asked to analyze network traffic and identify IoT devices on a corporate network that could be leaking sensitive information.
The challenge categories, which all pertain to the real world cyber threats, include Network Traffic Analysis, Open Source Intelligence, Scanning, Enumeration and Exploitation, Password Cracking, Traffic Analysis, Log Analysis, Wireless Security, Cryptography, Steganography and Web Application Security.