Academic News - February 2018
Newly Remodeled Occhiato Student Center
A Grand Opening and Re-dedication of the Occhiato Student Center (OSC) was held on Tuesday, Jan. 23 in the building's Great Hall. Constructed over three phases to keep dining services operable throughout, the OSC project includes a renovation and expansion to the original 109,000-square-foot facility built in 1974 to serve as the student center and dining hall. The 22,900-square-foot addition, which temporarily housed the University bookstore and student cafeteria during the renovation to assure service to students without interruptions, will feature a new ballroom and pre-event gathering space that will be unveiled May 2018.
The OSC was designed as an open, dynamic, technologically-modern facility with residential dining and retail functions, study lounges, and state-of-the-art conference rooms. The renovation separates the student use areas form the public areas available for public and private events. The new design emphasizes various points of entry to the building, which were originally invisible to students and visitors, includes a large clerestory structure over the second floor opening to the main level to allow for abundance natural light and relocates student-oriented programs to the main level from the lower level to optimize visibility to students.
CSU-Pueblo's dining services and catering provider, A'viands, is pleased to showcase the new, first-class dining hall in the OSC, with fresh concepts and made-to-order cuisine. The new OSC also features Einstein Bros. Bagels and Tacos Navarro, a Pueblo favorite. Students, faculty, and staff are enjoying the new dining options available!
The renaming of the facility from the Occhiato University Center to the Occhiato Student Center pays tribute to a $30 million investment by CSU-Pueblo students. Returning students have given rave reviews of the new student center and dining services.
CSU-Pueblo to establish Institute of Ecotourism Studies in Mexico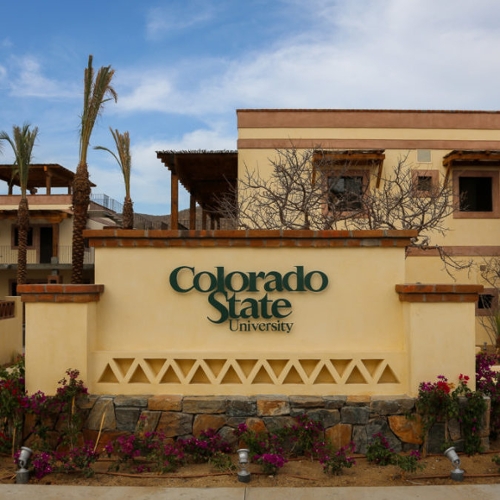 One of eight recipients of a 100,000 Strong in the Americas Innovation Fund grant, Colorado State University-Pueblo, the Colorado State University Todos Santos Center, and Autonomous University of Baja California Sur (UABCS) will collaborate to establish an Institute of Ecotourism Studies in Baja California Sur, Mexico. This bi-national effort includes collaboration between Fort Collins and Pueblo campuses led by CSU-Pueblo Assistant Professor of Recreation & Outdoor Leadership Dr. Daniel Bowan, Kim Kita, director of special projects & partnerships at Colorado State University, and Dr. Plácido Roberto Cruz Chávez, professor at Universidad Autónoma de Baja California Sur.
The Institute will utilize the foundation laid by the CSU Todos Santos Center, established in 2015 as a regional hub for engagement, collaboration, and exchange of ideas throughout Baja California Sur. Bowan has an extensive background in experiential education, leading successful outdoor expeditions for the past 20 years. The grant will support three field-based academic courses to be held throughout 2018. The programs will occur in Mexico and Colorado with focus on ecotourism, sustainable travel, and alternative tourism issues. Courses will be open to CSU-Pueblo, CSU-Fort Collins, and Autonomous University of Baja California Sur students and will focus on cultural exchange between Mexico and Colorado students. 
CSU-Pueblo Faculty in the news
Campus Events
Other Campus News Resources