Chicano Studies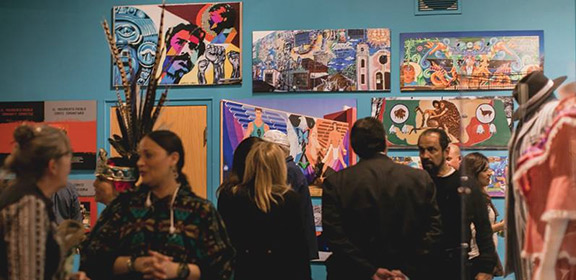 The Chicano Studies Program at CSU-Pueblo is a small but growing academic program. The Chicano Studies minor complements majors and careers in law, sociology, social work, languages, education, government, business, and other disciplines.
Students who plan to live and work in the US Southwest or aspire to careers that involve relations in the American continents are likely to be well served by Chicano/a studies courses.
The Interdisciplinary approach emphasizes history, and cultural studies, and selected courses provide the student with an in-depth knowledge of specific aspects of the Chicano/a community Students in Chicano/a studies courses will develop an understanding of the relationships of ethnic groups within American society by viewing the academic study of Chicanos/as a paradigm for the study of other ethnic groups.
Students who minor in Chicano Studies will benefit from:
individualized attention from faculty
personalized, interdisciplinary academic support
small class sizes and close interaction with instructors
specialized knowledge of categories of diversity
enhanced critical thinking, writing, and verbal skills
encouragement and support for student-initiated projects
preparation for graduate school, law school, and a variety of professions in the private and public sector
A minor in Chicano Studies is collaborative by design and intended to provide students with a broad academic experience that will support their academic, professional, and personal goals.
A rigorous analysis of gender helps students understand their major discipline in new ways. Many students combine their work in Women's Studies with majors in social sciences, humanities, social work, education, business, and nursing.
The minor is interdisciplinary and multicultural, and courses incorporate classroom and experiential learning.
Students are asked to examine relevant questions and issues from a range of perspectives, thereby enhancing their analytical and critical thinking skills in the process. Such a vantage point can offer a unique personal and intellectual foundation.
A minor in Chicano Studies is excellent preparation for graduate and professional school. Because Chicano Studies courses strengthen skills in critical thinking and communication, they are especially good background for law, medicine, information science, business, psychology, labor and industrial relations, public health, and social work, among others.
A minor in Chicano Studies provides you with a marketable set of skills that are directly applicable to the public and private sector. In the business world, there is an increase in the demand for expertise on issues concerning ethnicity and significant pressure to hire professionals who appreciate issues of diversity and who can respond to equal employment opportunities. Our minors graduate with a strong background in and sensitivity to socio-economic and political issues around race and ethnicity.
Every semester the program sponsors several on-campus events, films, and speakers. Minoring in Chicano Studies, taking Chicano Studies courses, and attending our events is a great way for both women and men to become part of a larger academic community.
For further information about Chicano Studies, contact the Chicano Studies Coordinator at 719.549.2359 or judy.baca@csupueblo.edu