Program Admissions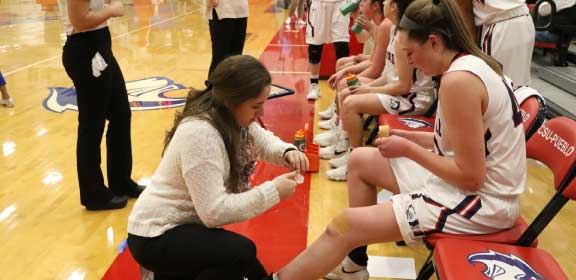 Cohort's start in the summer semester.
Individuals interested in the Master of Science in Athletic Training are eligible to apply for: 
2 Year Program: Candidate must have a Bachelor's degree and has completed prerequisite coursework; OR
3+2 Program: Candidate is in the third year of the Pre-Athletic Training emphasis of the Health Science program. Learn more
Individuals that match one of the above criteria must then provide the following to be accepted into the Master of Science in Athletic Training program: 
Grade Point Average: Applicants must have a cumulative GPA of 3.0 or higher (by the third year of the Health Science program for 3+2 Program candidates)
Letters of Recommendation: One letter must be submitted from a certified Athletic Trainer, and one letter from an academic instructor
Observation Hours: 50 hours must be completed with a certified and a state credentialed Athletic Trainer
Program Admission Provisions:
Full Admission: Student has met all the above-noted criteria and have completed a Baccalaureate degree.  Students applying in the Junior or final year of undergraduate education with courses in progress will receive notification of full admission with the understanding that the above-noted criteria will be met upon completion of the Junior year or undergraduate education.
Conditional Admission: Student has a GPA between 2.75-2.99 will complete all prerequisite courses with a grade of C or better and meet other application criteria.  Students that receive Conditional Admission will be required to earn a GPA of 3.0 in the first MS AT summer session of the program.  Student not meeting this standard will automatically be dismissed from the program.
After acceptance into the program, the following documents must be provided:
Physical exam
Submission of required immunization records
Covid-19 vaccine
Flu vaccine (by Nov 1st)
TB test and completed TB form
Proof of current CPR for Professional Rescuer and First Aid Certification (or equivalent)
Completed technical standards form
Copy of medical insurance card
You can find all associated fees for the Athletic Training Program here.
Apply Now
Candidates for the Master of Science in Athletic Training must fill out an application to Colorado State University Pueblo and send all application material to:
Colorado State University Pueblo
Office of Admissions and Registrar
2200 Bonforte Boulevard
Pueblo, CO 81001