Teacher Education Program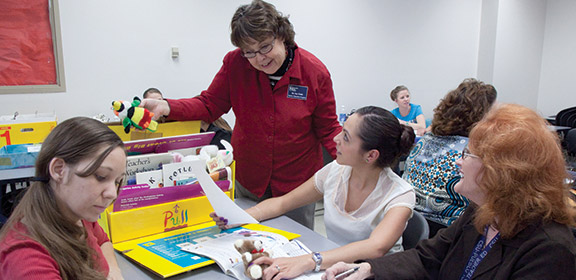 The Teacher Education Program has a primary mission of preparing teachers of quality and distinction. At CSU-Pueblo, preparing teachers is a campus-wide responsibility, with faculty and administrators involved in support of the program's mission. An integral component of the program is its formal partnership with 17 school districts and four community colleges in southern and southeastern Colorado. The Teacher Education Program is authorized by the Colorado Commission on Higher Education and the Colorado Department of Education.
The joint efforts of students, faculty, and administrators across all partners focus
on improving the quality of learning in classrooms in elementary, secondary,
and higher education.
The Teacher Education Program collaborates with other academic units to offer programs leading to Colorado teacher licensure in various endorsement areas:
Frequently Asked Questions
 

What programs are available for students pursuing a career in teaching at CSU-Pueblo? What will be my major and minor?

In Colorado, students cannot major in education.  Instead, they complete an academic major in the area they want to teach, and minor in education.  The following majors are available for future teachers at CSU-Pueblo…

Elementary teachers major in Liberal Studies, preparing them to teach all subjects. Secondary teachers (middle school and high school) can major in English, Mathematics, Biology, Chemistry, Physics, History, Political Science, or Spanish. These departments on campus have designed special programs for students pursuing teaching, denoted as majors for a teaching emphasis. K-12 teachers can major in Music Education, Art (teaching emphasis) or K-12 Physical Education (teaching emphasis). These majors allow students to teach in grades K-12.

Your minor then, becomes the area you want to be licensed to teach: elementary (K-6), secondary (7-12) or K-12. The courses in your minor are called Professional Education Courses, which provide you with the knowledge and techniques for effective teaching.

Additional (2nd teaching) endorsements are available in the following areas:
 Special Education
 Instructional Technology Specialist
 Instructional Technology Teacher
 Culturally & Linguistically Diverse Education

 

Are the specific classes that are required for my major and minor listed anywhere?

YES! There are advising sheets for every major for prospective teachers as well as the elementary, secondary, and K-12 teaching minors, which list all of the required courses and provide information about prerequisites. Just click on one of the menu links under "Forms & Documents" listed to the left.

 

When and how should I get an advisor?

Early and consistent communication with faculty advisors is essential to successfully completing any college degree. All CSU-Pueblo students will be assigned an advisor in their academic major. It is important that you meet with your advisor each semester to appropriately plan out your courses and to stay aware of any extra requirements or changes in the program. Major advisors are assigned in the department of the major.

Students attending an SCTEA Partnership Community College (Pueblo Community College, Trinidad State Jr. College, Otero Jr. College, and Lamar Community College) should also meet with their advisor frequently to assure that the courses they are taking will transfer into the Teacher Education Program. The faculty in the CSU-Pueblo Teacher Education Program and at the community colleges have collaborated extensively to provide the best advising possible to make the transfer to CSU-Pueblo as smooth as possible.