Roger Clark, Ph.D., LAT, ATC
Associate Professor and Director Athletic Training Program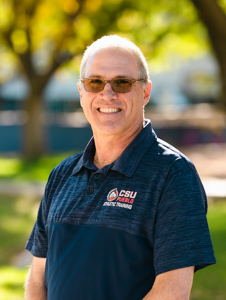 Contact Info
Office:
Massari Arena (PE) 264
Bio
Dr. Roger Clark studied at the University of Illinois-Urbana where he earned his undergraduate degree in Physical Education-Athletic Training.  He completed his masters degree at the University of Arizona in Athletic Training.  He completed his Ph.D. at the University of Pittsburgh in Exercise Physiology/Athletic Training.  His dissertation was titled: Effects of cryotherapy and compression treatment protocols on pain and functional signs of delayed-onset muscle soreness.
Dr. Clark has been a certified athletic trainer since 1985.  He has worked in the high school, clinic, Division I and Division II athletics settings as a certified athletic trainer.  He has been a director of an athletic training education program since 1994, at Quincy University-Quincy, Illinois (1994-1996) and Western Illinois University-Macomb, Illinois (1996-2002).  While at WIU the athletic training education program transition from an NATA approved program to accredited athletic training education program.  He came to CSU-Pueblo in 2002 as the Director of the Athletic Training Program.  In April 2004, the athletic training education program at CSU-Pueblo earned accreditation status under the leadership of Dr. Clark.  His research interests include delayed-onset muscle soreness (DOMS), cryotherapy, effects of K-Taping and athletic training education.   Fall 2011, he took over as the Director of Athletic Training in the athletics department.  He oversees the athletic training staff and the delivery of athletic training services to the CSU-Pueblo athletes.  Dr. Clark is responsible for developing the athletic training program's partnership with the International K-Taping Academy (Germany), and serving as a K-Taping Academy Instructor.​