Heidi Reynolds-Stenson
Assistant Professor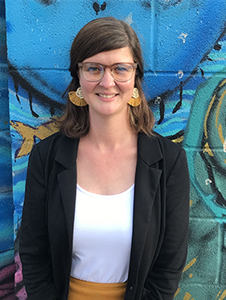 Contact Info
Office:
Psychology (PSY) 229B
Bio
Heidi Reynolds-Stenson received her doctoral degree in Sociology from the University of Arizona in 2018 and joined the faculty at CSU-Pueblo shortly after. She has published several articles focused on social movements, protest, policing, and related topics. Current and ongoing projects examine: how activists work to buffer themselves against state repression and redefine the costs and benefits of participation in collective action; historical shifts in protest policing (multiple projects); legal consciousness surrounding family responsibilities discrimination; and online censorship and repression.
Research Interests
Social movements
Criminology
Policing
Social control
Law and society
Culture
Publications
Reynolds-Stenson, Heidi and Jennifer Earl. 2018. "Clashes of Conscience: Explaining Counterdemonstration at Protests." Forthcoming in Mobilization.
Suh, Hyungjun and Heidi Reynolds-Stenson. 2018. "A Contingent Effect of Trust?: Ingroup and Outgroup Trust and Social Movement Participation in Political Context." Forthcoming in Social Science Quarterly.
Heidi Reynolds-Stenson. 2017. "Protesting the Police: Police Brutality Claims as a Predictor of Police Repression of Protest." Social Movement Studies 17(1): 48-63.
Odabas, Meltem and Heidi Reynolds-Stenson. 2017. "Tweeting from Gezi Park: Social Media and Repression Backfire." Social Currents: 1-20.
Ring-Ramirez, Misty, Heidi Reynolds-Stenson, and Jennifer Earl. 2014. "Culturally Constrained Contention: Mapping the Meaning Structure of the Repertoire of Contention." Mobilization 19(4): 405-419.