Heidi Reynolds-Stenson
Assistant Professor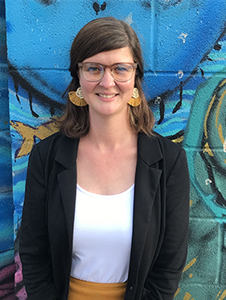 Bio
Heidi Reynolds-Stenson received her doctoral degree in Sociology from the University of Arizona in 2018 and joined the faculty at CSU Pueblo shortly after. She has published several articles focused on social movements, protest, policing, and related topics. Current and ongoing projects examine the impact of Black Lives Matter protest on police reform; historical shifts in protest policing (multiple projects); social movement resistance to state repression; legal consciousness surrounding family responsibilities discrimination; and online censorship and repression.
Research Interests
Social movements
Criminology
Policing
Social control
Law and society
Culture
Publications
Heidi Reynolds-Stenson. Forthcoming. Cultures of Resistance: Collective Action and Rationality in the Anti-Terror Age. Rutgers University Press.
Heidi Reynolds-Stenson and Jennifer Earl. Forthcoming. "The Puzzle of Protest Policing over Time: Historicizing Repression Research Using Temporal Moving Regression." American Behavioral Scientist.
Reynolds-Stenson, Heidi and Jennifer Earl. 2018. "Clashes of Conscience: Explaining Counterdemonstration at Protests." Forthcoming in Mobilization.
Suh, Hyungjun and Heidi Reynolds-Stenson. 2018. "A Contingent Effect of Trust?: Ingroup and Outgroup Trust and Social Movement Participation in Political Context." Social Science Quarterly.
Heidi Reynolds-Stenson. 2017. "Protesting the Police: Police Brutality Claims as a Predictor of Police Repression of Protest." Social Movement Studies 17(1): 48-63.
Odabas, Meltem and Heidi Reynolds-Stenson. 2017. "Tweeting from Gezi Park: Social Media and Repression Backfire." Social Currents: 1-20.
Ring-Ramirez, Misty, Heidi Reynolds-Stenson, and Jennifer Earl. 2014. "Culturally Constrained Contention: Mapping the Meaning Structure of the Repertoire of Contention." Mobilization 19(4): 405-419.