Dara Harris
Admissions Counselor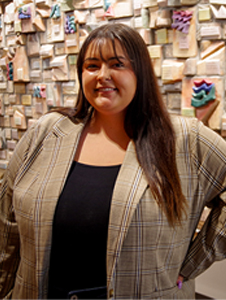 About Me
Hello, my name is Dara Harris! I have lived in Pueblo since I was 5 and consider myself a Pueblo native. I graduated from CSU Pueblo in 2021, where I studied Business Management, Marketing, and Computer Information Systems. While in college I was involved in many organizations and clubs such as, Alpha Sigma Alpha, Fraternity and Sorority Council, Dean's Advisory Council as well as being a Student Ambassador. I really love K-Pop, Anime, K-Dramas and I like to dance in my freetime!
Why CSU Pueblo
CSU Pueblo was able to offer everything I wanted as a student and alumnae. I had wanted to study Business and the Hasan School of Business was one of the best in the nation. I was also granted the Kane Foundation Scholarship as a senior in high school which was life changing. I was able to get my degree and experience college life without worrying about the cost. This allowed me to be involved on campus, focus on my studies, and opened up so many opportunities for me. One of my favorite experiences was studying abroad and making friends from all over the world!
Favorite Restaurants
Jorge's Sombrero
Angelo's Pizza
Pho 50
Fun Facts
I was born in Roswell, New Mexico and I do believe aliens are out there!
I lived in South Korea for 8 months and worked as an English Teacher.
I really enjoy spicy food, the hotter the better!
I love to dance and was in a Pueblo dance crew called South Paq.
Not So Fun Facts
I have been trying to learn to whistle since I was 16 and I still can't do it.
I am absolutely terrified of moths.
I can relate everything to an episode of Friends!
Back to Top