Daniel Minich
Admissions Counselor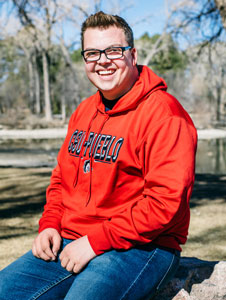 Contact Info
Office:
BCC 107
Office Hours:
Bio
About Me
Hi! My name is Daniel Minich and I am an Admissions Counselor for CSU Pueblo! I was born and raised here in the Steel City, attended CSU Pueblo for a Bachelor of Science in Mass Communications with an Emphasis in Strategic Communications and a minor in Marketing. While I was a student I had to opportunity to find my passion in communications with boundless opportunities provided. I got to go to New York and learn about Mass Communications hands-on with Alumna Dana Perino, I had the opportunity to be an on-air personality for Rev 89, the student led radio station, and I interned with the local health department where I learned Crisis Communications hands-on with the COVID-19 response. In my free time I like to use my culinary arts degree by making some delicious food and pastries, and when I don't feel like cooking, I love to indulge in Pueblo cuisine! I also love a little Netflix binge every once and a while ;)
Why CSU Pueblo
I chose CSU Pueblo, because of the opportunities that are provided. The small campus has teachers, faculty, staff, and your fellow peer looking out for you. CSU Pueblo challenged me to step out of the norm, and achieve success in and out of the classroom. CSU Pueblo was also inclusive, accessible, and affordable!
Favorite Restaurants
ThunderZone Pizza
McAlister's Deli
Blue Ocean Sushi
Shamrock
Fun Facts
I play the trumpet
My favorite obscure animal is the axolotl
I love the carousel at City Park!
Not So Fun Facts
I don't know how to sit still, I like to stay busy
One time I got a fish hook stuck in my leg
The drive thru baristas at Dunkin' recognize me (I just can't get enough coffee!)