Celeste Molina
Recruiter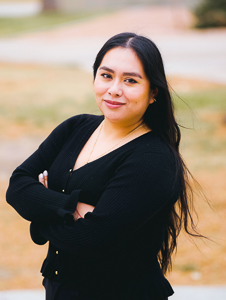 Bio
Hello, my name is Celeste Molina. I graduated from CSU Pueblo in 2017 with a BA in Mass Communications and Spanish. I may be shy and quiet when you first meet me but after a while, you'll see my true personality. Also, I'm a Pueblo native, I was born and raised in Pueblo!
Why CSU Pueblo
As a first-generation college graduate, CSU Pueblo had all the resources and support that I needed. My parents were migrant workers and growing up I didn't know if I could afford going to college. Thanks to the staff and faculty who believed in me, I was able to graduate debt free and be the first of my family to get a bachelor's degree.
Favorite Restaurants
Noodles & Company
Momo's Japanese Restaurant
Angelo's Pizza
Fun Facts
I have two dogs (Border Collie mix and Corgi mix)
LOVE K-pop and Kdramas
I believe in aliens and big foot.
Not So Fun Facts
I hate moths.
I have a shopping addiction.
I was obsessed with Twilight. Team Edward.