Ben Johnson
Applied Classical Guitar Instructor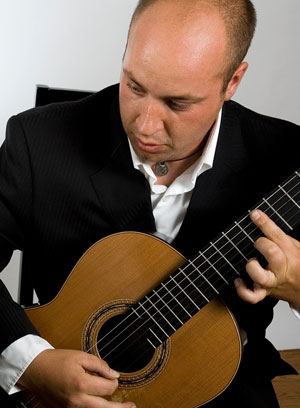 Contact Info
Office:
Art/Music (AM) 161
Bio
As an active performer and teacher Mr. Johnson currently serves as the Artist-in-Residence at Colorado State University in Pueblo.  There his duties include head of the Guitar department, Professor of Music theory, Director of the Guitar ensembles (both classical and jazz), and advisor to all Music performance majors and Music minors.  As an ambassador of the guitar Mr. Johnson is dedicated to performing works for the guitar from all eras of music in many venues conventional and unconventional.  As an avid chamber musician has recently performed in collaborated chamber music featuring the works of Astor Piazolla. 
Mr. Johnson has worked with several composers such as Stephen Goss, Chappell Kingsland, and Nicolas Deyoe.  He performed the world premiere of two guitar preludes by Nicolas Deyoe and assisted Chappell Kingsland and Safonia, a women's vocal ensemble, on a Christmas album in 2006.  He also has released a solo album entitled Art of Guitar in 2003.  His guitar duo, Duo Soledead, took home the top prize for professional ensembles at the Guitar Ensemble Competition at the University of Texas, Brownsville in 2008. 
Currently, Mr. Johnson is a member in the guitar duo Duo Mosaico with Dr. Steve Mullins.  Duo Mosaico is a unique guitar duo that specializes in repertoire from the classical and flamenco guitar worlds as well as original compositions and arrangements for a "high-low" guitar concept that is unique in the guitar world.  He also performs with flautist Andrea Artley with their duo, Mountain Aire Duo, which play a wide range of repertoire for flute and guitar.  Mountain Aire Duo is committed to raising money through public performances for the Pure Imagination Fund.  When he is not performing or teaching he enjoys his time with his wife and three children.