Meeting and Event Spaces
Welcome to Event Planning Services at CSU Pueblo! We are looking forward to hosting your next event on our beautiful campus. We offer a variety of indoor and outdoor locations to accommodate any event, providing a unique and enhanced setting. Wedding ceremonies and receptions can be hosted on campus at our indoor or outdoor venues.
Whether you want to host a small or large conference, meeting, or professional development session, our campus can accommodate groups of any size. Breakout rooms or classrooms with digital monitors are available throughout campus.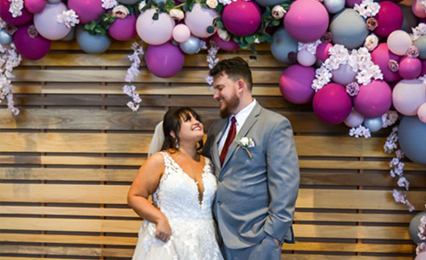 SERVICES AND CONSULTING WE PROVIDE TO THE COMMUNITY

Meeting Room Reservations: CSU Pueblo offers 14 meeting rooms varying in size that can be set up to accommodate classroom-style presentations or facilitate conversations. Whatever your needs may be, we will provide the service and quality to make your event as special as you deserve.

Event & Conference Spaces: Our Ballroom is approximately 13,000 square feet with beautiful hardwood floors, covered ceilings and crystal chandeliers to accentuate your event. The seating capacity is 600-700 people, including a dance floor and a head table. The Ballroom can be closed off into three sections with a seating capacity of approximately 150 in each section.

Catering Services: Our dining partner is able to provide on-site catering services, including plated dinners, buffets or boxed lunches. Our chefs can create a wide variety of menus to enhance the theme of your event. The experienced catering staff can accommodate cash or hosted bar services, champagne toasts, or cake-cutting services.
We complete the experience by providing event planning staff who will guide you through the logistics to make your special day a success. To start planning your event, please contact us by phone at 719.549.2484 or email at jenna.lovato@csupueblo.edu. 
Please Note: Filling out the event form does not guarantee automatic event scheduling. You will receive confirmation from our Special Events team once your event is booked.
Meeting Rooms Available by this Office for Community Use:
 

105 Meeting Room

 

101 Meeting Room

 

ASG Conference

 

Aspen Room

 

 

Blue Spruce

 

Chameleon

 

Cottonwood

 

Great Plains

 

Monarch

 

Serena

 

Trailridge

 

Tundra

 

Vail

 

Wolf Den
The Occhiato Student Center contains five meeting rooms varying in size, which can be used for smaller parties, changing rooms, or even daycare. Whatever your needs may be, we will provide the service and quality to make your event as special as you deserve.
All catering needs, including alcohol service, must be provided by Aladdin, our Campus Dining Service. Wedding cakes are an exception.
When alcohol is served, security guards must be present. We contract with DC Security for all campus events at a cost of $42 per hour, per guard. We require one (1) guard for every 100 people. Security must be present the entire time alcohol is served. All service of alcohol will cease at 12:00 midnight.
A Building Supervisor fee of $27 per hour for On-Campus Groups or $33 per hour for Off-Campus Groups is charged for the entire time that someone from your event is in the facility. The Building Supervisor is our representative on duty and is responsible for assisting with all of your needs.
Please ask about the state-of-the-art audio & visual equipment available for rent at our facility.
2021 Room Prices
*Note: Prices are subject to change without notice.
Room #
Room
Rate
122
Pack Cafeteria
$1,320
005
Wolf Den
$220
130
Ballroom
(3 sections & Pre-Function)
$2,500
130A
West Ballroom
$836
130B
North Ballroom
$561
130C
South Ballroom
$561
130D
Pre-Function Area
$561
006
Great Plains
$352
006A
Great Plains - South
$176
006B
Great Plains - North
$176
202
ASG Meeting
$567
217
Cottonwood
$314
205
Blue Spruce
$248
207
Serena
$248
206
Monarch
$248
003
Aspen
$352
001
Vail
$204
002
Trailridge
$204
004
Chameleon
$204
008
Tundra
$352
008A
Tundra - South
$176
008B
Tundra - North
$176
101
Conference Room
$66
Fountain Plaza
$750
Fountain Plaza & Ballroom
Varies
Additional Items
| Item | Cost |
| --- | --- |
| Security - DC Security | $42hr |
| Security - Sheriff | $94hr |
| Building Supervisor - On Campus | $27hr |
| Building Supervisor - Off Campus | $33hr |