Women's Studies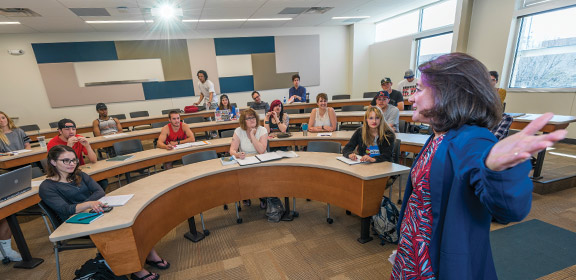 The Women's Studies Program at CSU-Pueblo is a small but growing academic program. A minor in Women's Studies is an excellent choice for students who want a deeper understanding of the social, economic, and political issues surrounding gender as it intersects with sexuality, race, ethnicity, and class.
Students who minor in Women's Studies will benefit from:
individualized attention from faculty
personalized, interdisciplinary academic support
small class sizes and close interaction with instructors
specialized knowledge of categories of diversity
enhanced critical thinking, writing, and verbal skills
encouragement and support for student-initiated projects
preparation for graduate school, law school, and a variety of professions in the private and public sector
A minor in Women's Studies is collaborative by design and intended to provide students with a broad academic experience that will support their academic, professional, and personal goals.
A rigorous analysis of gender helps students understand their major discipline in new ways. Many students combine their work in Women's Studies with majors in social sciences, humanities, social work, education, business, and nursing.
Because the Women's Studies program is student-centered, it fosters and encourages leadership skills. The minor is interdisciplinary and multicultural, and courses incorporate classroom and experiential learning.
Students are asked to examine relevant questions and issues from a range of perspectives, thereby enhancing their analytical and critical thinking skills in the process. Such a vantage point can offer a unique personal and intellectual foundation.
A minor in Women's Studies is excellent preparation for graduate and professional school.  Because Women's Studies courses strengthen skills in critical thinking and communication, they are especially good background for law, medicine, information science, business, psychology, labor and industrial relations, public health, and social work, among others.
A minor in Women's Studies provides you with a marketable set of skills that are directly applicable to the public and private sector. In the business world, there is an increase in the demand for expertise on gender issues and significant pressure to hire professionals who appreciate issues of diversity and who can respond to issues such as sexual harassment, flex-time, parental leave, pay equity, and equal employment opportunities.  Our minors graduate with a strong background in and sensitivity to socio-economic and political issues around gender, sexuality, race, ethnicity, and class.
Every semester the program sponsors several on-campus events, films, and speakers. Minoring in Women's Studies, taking Women's Studies courses, and attending our events is a great way for both women and men to become part of a larger academic community.
For further information about Women's Studies, contact the Women's Studies Coordinator at WomenStudies@csupueblo.edu​​
Student Learning Outcomes
Students will be able to:
Demonstrate a working knowledge of women's participation in, contribution to, and transformation of areas of social life including culture, society, politics, economics, and religion.
Demonstrate a working knowledge of institutionalized discrimination and violence based on gender.
Demonstrate a critical understanding of gender from national and global perspective.
Demonstrate and apply the basic concepts, theories and methods in gender studies in national and global contexts.