Sociology and Criminology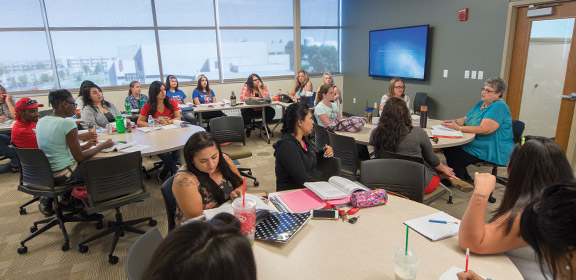 Sociology involves the study of the ways in which culture and social structure combine to shape people's behaviors, attitudes, and beliefs. Sociologists examine the nature and dynamics of groups, organizations, institutions, subcultures, and societies. A key focus of the sociological perspective is the description and understanding of inequality, especially along the lines of social class, race and ethnicity, and gender. Sociologists use scientific principles to explore, describe, analyze, and explain social interaction and social relationships that range in context from the nuclear family to the global economy. Insights gained from sociological research form the foundation of many social policies developed to solve local, regional, national, and international problems. Sociological specialties include family, education, work and industry, religion, epidemiology and health care, crime and criminal justice, the economy, urbanization, politics, mass media and popular culture, social movements, globalization, and the environment.
Students may earn one of two degrees in sociology – B.A. or B.S. In addition to the general sociology degree offering, students may select a general criminology offering - B.A. or B.S. Students may also complete a minor in either sociology or anthropology.
Criminology, as a sociological specialization, involves examining rates, types, patterns, causes, consequences, and control of criminal behavior. Criminology borrows heavily from sociological theory and methodology to describe and explain crime and to articulate sound criminal justice policy and practice.
The Sociology or Criminology major prepares students to work in a wide variety of vocational sectors including education, industry, government, business, and social services. Many sociology/criminology graduates secure employment in youth services, drug rehabilitation, law enforcement, corrections, probation/parole, case management, victim services, and private security.​
Contact Us:
Colorado State University Pueblo
Pueblo, CO 81001-4901  USA 
719.549.2143
Sociology@csupueblo.edu
Frequently Asked Questions
 

What are the benefits of a degree in sociology?

A degree in sociology enhances personal life satisfaction, responsible citizenship, and vocational opportunities. First, a degree in sociology provides unique, multifaceted, and more interesting ways of seeing the social world. Sociology graduates view social behavior and relations in ways others do not. They interpret differently what they read in newspapers, magazines, and books and what they see happening on television, at the movies, on the street, and in the home. Be it a disaster or a joyous celebration, the sociological imagination will cast the occasion in a different light. Thinking and reflecting sociologically enriches a person's experience over a lifetime as they see the extraordinary in the ordinary, the exceptional in the common, the exotic in the humdrum.

Second, sociology graduates have a better understanding of the ways in which culture and social structure produce social and economic inequalities in organizational and institutional contexts. Such awareness can increase tolerance and guide informed civic involvement in such areas as voting, running for office, jury duty, volunteer work, and community service. Thoughtful reflection guiding constructive engagement not only contributes to community development but holds the potential to improve social and economic conditions for all members of society.

Finally, studying for a sociology degree provides important knowledge and skills sought after by employers – creative and critical thinking, effective oral and written communication, research design and analysis, problem solving and strategic planning, and cooperative teaming. Sociology graduates demonstrating a high level of attainment in these skill sets show themselves to be open, adaptable, trainable, and effective in a wide variety of private and public vocational contexts. Moreover, sociology graduates' knowledge of the inner workings of specific organizations (hospitals, police forces, universities, corporations) and institutions (family, education, economy, politics) make them more effective operators capable of negotiating these bureaucratic environments more successfully.

 

What kinds of jobs are available to sociology or sociology/criminology graduates?

The sociology major prepares students to work in a wide variety of vocations including education, industry, government, business, and social service agencies. Many sociology/criminology graduates secure employment in youth services, drug rehabilitation, law enforcement, corrections, probation/parole, case management, victim services, and private security.

Students should keep in mind, however, that many employers are looking more for employees with a broad range of knowledge and a generalized set of proficiencies than they are for employees with a very focused and highly specific set of skills. Recognizing that labor force requirements change rapidly, many government departments, private organizations, small businesses, and corporations seek new employees who are open to novel ideas, adaptable to new situations, highly trainable, well organized, team players, committed to the task at hand, and effective at getting the job done. Such employers will assume that a graduate with a B.A. or a B.S., and an overall average approximating a 4.0 (A), will possesses these qualities, regardless of their major. 

 

What is the difference between the B.A. and B.S. degrees in sociology?

The sociology and sociology/criminology requirements for the B.A. and the B.S. are identical. The difference lies in the fact that the B.A. requires foreign language certification while the B.S. does not.

 

How long does it take to finish a sociology degree?

A sociology degree is designed to be completed in four years. The degree requires the accumulation of 120 credit hours. For students completing in four years, the schedule usually involves 30 credit hours per academic year or 15 hours per semester. Some students finish more quickly by taking additional courses in the summer. Others with demanding work or family commitments may take longer to finish.

Students should consult the department's Four Year Degree plans​ as guides for timely completion.

 

How easy is it for students who work full time to complete a degree?

While students who are working a 40 hour (or more) week face additional challenges in completing a degree in timely fashion, the sociology program offers a schedule of classes that accommodates people in the labor force. The department offers an evening and weekend option through which it is possible to complete the requirements for the sociology or sociology/criminology major. We make every effort to offer all required courses and a range of electives, rotating through a two year cycle. Evening sociology courses are also available in Colorado Springs through the university's Extended Studies program, as are a variety of distance education offerings in sociology and criminology.

Many of our weekend courses and some of our evening courses are taught by adjunct professors who possess graduate degrees and are working in the criminal justice field (e.g. police chiefs, deputy sheriffs, county coroner, prison wardens). This initiative puts students in touch with working professionals and acquaints them with immediate and concrete issues in the field.

 

With whom do I consult for academic advising?

Any member of the sociology department is ready, willing, and able to advise sociology majors or minors. Consult the Faculty section of the website for department members' phone numbers and email addresses.

 

Does the sociology department offer an internship program and how do I enroll?

Recognizing that field experience is important for students, the sociology department offers an internship program. Internships provide the opportunity for "hands-on" learning, facilitate the establishment of networks with potential employers, provide a more accurate perspective of what actual work in a particular occupation entails,  and afford valuable work experience to which students can refer on job applications.

The relevant course is SOC 494 Field Experience. Students can enroll for different numbers of credit hours, usually 3, 6, 9, or 12. Normally, students in the internship program must be seniors who have completed their required courses and who have a GPA of at least a 3.0. 

Students interested in registering for an internship should contact the department's chair, Dr. Susan Calhoun-Stuber.

 

What kind of schooling might I attain after completing a Bachelor's degree in sociology?

Some sociology graduates with exceptional performance records pursue advanced study in sociology (M.A., M.S., Ph.D.). Jobs for those with graduate degrees often involve research positions or teaching posts in colleges and universities. Others pursue applied and professional training in such areas as law (Ll.B., J.D., Ll.M.), public administration (M.P.A.), criminal justice (M.C.J.), or business (M.B.A.).