Student Symposium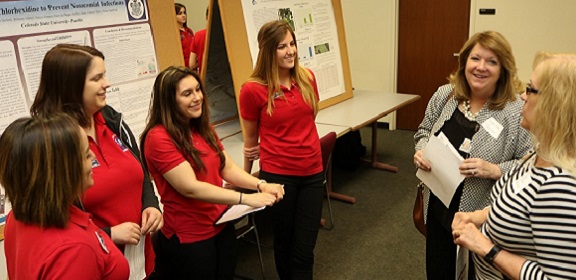 2018 Student Symposium
The sixth annual Student Symposium: A Celebration of Research, Scholarship, and Creative Activity invites students and recent graduates from Colorado State University-Pueblo to present their original research, scholarly, and creative works to the university and public. The Symposium's mission is to serve as a forum for dissemination and discussion of scholarly ideas and to foster interaction among students, faculty, and the local community. 
The Student Symposium will take place on Friday, April 6, 2018 on the CSU-Pueblo campus. The program is now available for download.
Tips for presenters
 Poster Presenters
You may print your poster at CHASS at a discounted rate of $10. Contact Trisha Pocius, Admin Assistant in CHASS (719.549.2863 or trisha.pocius@csupueblo.edu) to schedule an appointment. Remember that many students will be preparing posters for the symposium, and book your appointment well in advance. The recommended size is 36" x 48".
You should arrive to your session 10 minutes early to set up. Pins and easels are provided.
Oral Presenters
Each presenter should prepare a talk for 15-25 minutes, including time for questions. Please bring a copy of your presentation materials on a USB drive. Moderators for each session will introduce student presenters and keep time.
Registration
All presenters must check in at the registration desk to obtain their name badges and confirm attendance.