Jacob Chi
Professor Emeritus & Music Director and Conductor, Pueblo Symphony Orchestra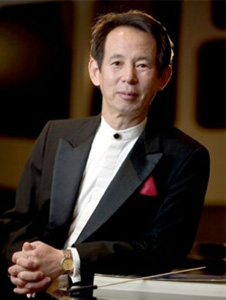 Contact Info
Office:
Art/Music (AM) 168
Bio
Music Director/Conductor, Pueblo Symphony Orchestra, Pueblo, Colorado, U.S.A.
Professor of Music, Colorado State University-Pueblo
Principal Conductor, Marquette Symphony, Michigan
Former Artistic/Musical Director, Chihuahua State Philharmonic, Mexico
Jacob Chi was born in Qingdao, China. At age 17, he became the youngest Concertmaster of the Beijing Opera Company; at 23, he was the Company's conductor and composer. Chi completed his Doctor of Musical Arts in Orchestra Conducting from Michigan State University with Leon Gregorian, and a MM in violin performance from the University of Michigan with Jacob Krachmalnick, former concertmaster of the Philadelphia Orchestra. Chi's conducting studies brought him to Tanglewood with Seiji Ozawa and Gustav Meier, the International Conducting Workshop, and other workshops with Leonard Slatkin, Rossen Milanov, and others.  
Dr. Chi is currently a full professor of music at Colorado State University-Pueblo (1997-present). He taught at Miami University (1993-1997) and the University of Southern Colorado (1991-1993). Chi also teaches conducting at universities and conservatories in China and Mexico. In 2006 and 2008, with Gustav Meier and Dr. Benjamin Loeb, Chi taught the International Conducting Workshop for young professionals in Chihuahua Mexico.
Being the music director of the Pueblo Symphony Orchestra since 1991, Maestro Chi is also the principal conductor of the Marquette Symphony in Michigan, and  was the artistic and music director of the Chihuahua State Philharmonic at Chihuahua Mexico from 2005 to 2007. He guest conducts nationally and internationally. Chi had conducted  the Denver Symphony (Colorado), Colorado Springs Symphony (Colorado), El Paso Symphony Youth Orchestras (El Paso, Texas), Taos Symphony (New Mexico), Jackson Symphony (Michigan), and Midland Symphony (Michigan).   Internationally, Maestro Chi conducted Vladimir State Symphony Orchestra (Vladimir, Russia), North Czech Philharmonic Teplice (Prague, Czech), Orchestra Citta'Di Grosseto (Grossetto, Italy), State Symphony Orchestra of Mexico (Toluca, Mexico), Michoacan State Symphony Orchestra (Morelia, Mexico), Echternach International Festival (Luxembourg), Festival International Chihuahua (Chihuahua, Mexico), Chihuahua University Symphony Orchestra (Chihuahua, Mexico), New Symphony Orchestra (Sofia, Bulgaria), Wuhan Philharmonic (Wuhan, China), Xiamen Philharmonic (Xiamen, China), and Hua-ou Philharmonic (Qingdao, China) – of which he is the principal guest conductor and artistic advisor.   Dr. Chi's conducting repertoire includes the standard symphonic music, opera, ballet, and popular music, from Baroque to contemporary and from the West to the East.
By virtue of his significant professional contributions to American society, in 1994, Dr. Chi was selected among thirteen other Asian conductors, along with Seiji Ozawa, Zubin Mehta and Bright Sheng, for the Premiere Edition of  Who's Who Among Asian Americans. In 2000, he was listed in the 17th edition of the International Who's Who in Music and the Musicians Directory.