Dawn Zoldi
Adjunct Faculty for Homeland Security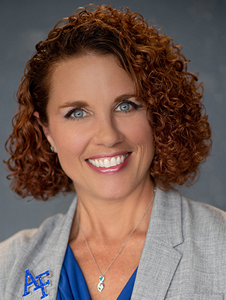 Bio
Dawn M.K. Zoldi is a licensed attorney, a U.S. Air Force veteran, and the founder and CEO of P3 Tech Consulting, connecting people and their advanced tech platforms with full-spectrum policy-relevant information. Ms. Zoldi was admitted to the Bar of the Supreme Court of the Commonwealth of Pennsylvania in 1992 and commissioned through a direct appointment in the United States Air Force in July 1993. In her almost 25 years of active duty as a member of the Judge Advocate General's Corps, Ms. Zoldi ultimately attained the rank of Colonel and performed a myriad of duties at various command echelons in the continental U.S. and deployed forward.
Upon her retirement from active duty in 2018, she spent two years with the Secretary of the Air Force's Office of the General Counsel as the Business Matters Attorney for the U.S. Air Force Academy and one year as the Deputy Director of the USAFA's Center for Character and Leadership Development. She is an internationally recognized expert on unmanned aircraft systems and advanced air mobility law and policy and a recipient of the Woman to Watch in UAS (Leadership) Award 2019.
Her recent business endeavors in the UAS/ AAM policy arena include roles as a legal columnist for Inside Unmanned Systems and Inside GNSS magazines; contributor to Dronelife, Commercial UAV News and InterDrone media outlets; Adjunct Conference Planner for InterDrone (2020-present) & Member of InterDrone Advisory Board; Senior Advisor to the Urban Low Altitude Transport Association; strategic consultant to Women & Drones' Women to Watch in UAS Global Awards initiative (2020 - present); strategic partner to Five Alpha, Resilient Solutions Ltd and Airavat Solutions, Legal/ Policy Committee Chair to nonprofit DRONERESPONDERS and Board Member of the nonprofit Colorado UAS.