Alexis Wolstein
Assistant Professor of Library Services / Information Literacy Coordinator / Liaison Librarian - CHASS & Honors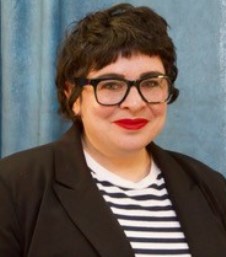 Contact Info
Office:
LARC 210
Office Hours:
Degrees
M.S., Information Science
Certification in Women's & Gender Studies
Bio
Alexis Wolstein graduated from the University of Texas at Austin with a Master of Science in Information Studies and Women's & Gender Studies. She was previously Instruction Librarian and liaison to Women's & Gender Studies at Illinois State University. Her research interests include The Body as a Medium and the History of Sideshows, which lead her to chairing the Popular Culture Association's Circuses & Sideshow section. Alexis loves iced coffee, her husband, her short dog, and her giant cat.
Research Interests
The Body as a Medium, the History of Sideshows, Information Literacy Pedagogy