RN-BSN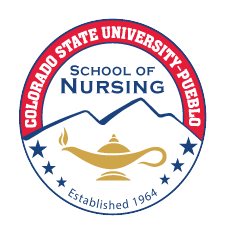 The Colorado State University-Pueblo Nursing Program was established in 1964 and was recognized as a School of Nursing in January of 2017. The School of Nursing provides various opportunities for students looking to obtain a Bachelor of Science in Nursing (BSN) or a Masters of Science with a major in Nursing (MS).
The mission of the School of Nursing is to prepare graduates for professional positions as safe, competent and caring nursing to meet the health care needs of diverse populations.
Program of Study
The student must confer with the RN-BSN advisor to develop a program of study. The program of study is designed to assist the working RN in returning to school to complete their BSN. Courses are offered online. The RN-BSN option will include 33 credit hours of credits through the articulation agreement, 57 credit hours of prerequisite or co-requisite courses, and 30 credit hours of nursing courses for a total of 120 credit hours. Students must pass all nursing courses with a B or better and maintain a nursing 3.00 GPA. RN's transferring from community colleges can transfer in 57 prerequisite credits along with 33 RN credits for a total of 90 credit hours. This applies only to the students in the RN to BSN program.
 

Program Goals

The School of Nursing will:

Provide quality learning experiences for nursing students that prepare graduates for entry-level baccalaureate nursing practice or advanced nursing practice in a culturally diverse community.
Provide multiple degree entry paths based on previous education and academic entrance criteria that support student achievement at a professional level.
Serve as a regional nursing education center for Southern Colorado, by collaborating with local and regional healthcare agencies to provide nursing programs.
Maintain educational excellence demonstrated by program status consistent with the Colorado Board of Nursing, national accrediting agency criteria and educational emphases on professional nursing standards.
Provide a supportive and caring learning environment to address the learning needs of a diverse student population.
Support role development responsive to the changing healthcare environment by redefining and maintaining competencies throughout one's practice.

 

Pre-Requisite/Co-requisite Courses

Students enrolled in an ADN program need complete 57 credit hours of pre-requisite/co-requisite courses. Students may complete these courses while enrolled in CSU-Pueblo's RN - BSN program but must complete all courses before students' last semester. Use the equivalent chart to see which courses are required by the program.

 

Accreditation

Accredited by: 

Accreditation Commission for Education in Nursing and/or ACEN 

3343 Peachtree Road NE 

Suite 850 

Atlanta, GA 30326 

Phone: 404.975.5000 

Fax: 404.975.5020 

http://www.acennursing.org