Admissions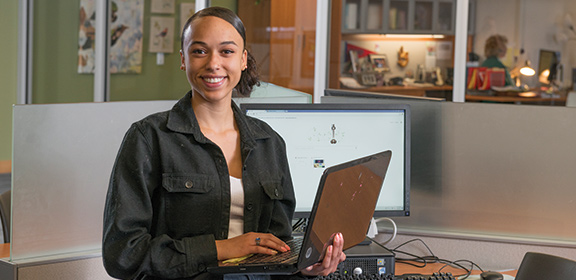 The Online Construction Management Program was created for students looking to advance their career in the construction industry. The Online Construction Management Program is flexible and offers year-round, open enrollment. The path to enhancing your career has never been easier!
Admissions Requirements:
It is preferred (not required) that students have their general education requirements completed or an associate's degree in a similar field.

Students with 30 credits or less need official HS and college transcripts.
Students with 12 credits or less credits need SAT/ACT, official HS and college transcripts. Students over 23 years old are exempt from SAT/ACT.

Students should have a cumulative GPA of 2.3 or above. Students with a GPA less than 2.3 may be admitted after committee review.
How to Apply:
Step 1 - 

Talk to an Academic Advisor:


Our highly trained staff is available to answer all of your questions and help you select the degree path that fits your goals.
Step 2 - Apply:
Complete the free online application. You may check the status of your application by calling Admissions at 719.549.2462 or email at info@csupueblo.edu.
Step 3 - 

Submit your transcripts:


Order your official transcripts from your previous colleges and other sources of credit, so we can create your individual degree plan. Official transcripts must be sent to info@csupueblo.edu or by mail at the address below:

Colorado State University - Pueblo
Office of Admissions
2200 Bonforte Blvd
Pueblo, CO, 81001

Step 4 - Complete your FAFSA:
If you plan to utilize financial aid, including grants, scholarships, 3rd party sponsorships, GI-Bill, and/or tuition assistance, you must complete a FAFSA and indicate Colorado State University-Pueblo as your institution. Complete your FAFSA here: https://fafsa.ed.gov/. 
Step 5 - 

Finalize your enrollment:


Once you are admitted, your Academic Advisor will guide you through your PAWS account, help you to understand your degree plan, transfer credits, and set up your schedule.
Step 6 - 

Start learning!


The only thing left is for you to order your textbooks and get ready to start class.