Meet the President
Dr. Timothy Mottet, President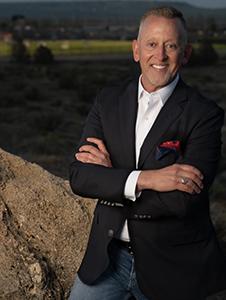 Timothy Mottet is the 15
th
 president of Colorado State University Pueblo. As a higher education leader, he is recognized for designing innovative learning systems that allow all students to be successful.
Mottet has a record of success in developing high-performing educators, aligning people and processes to enhance organizational sustainability, facilitating and implementing strategic planning processes, and building consensus among diverse groups of individuals. As provost at Northwest Missouri State University from 2014-2017, Mottet worked to keep higher education accessible and affordable by developing strategic partnerships and pathways with area high schools and community colleges.
Mottet developed an academic vision around profession-based learning where faculty work with industry professionals to develop curriculum and learning opportunities that prepare students to be both professionals and engaged citizens who make significant contributions to their employers, communities, and families.
Mottet served as dean of the College of Fine Arts and Communication at Texas State between 2011-2014. From 2007 to 2011, he chaired the Department of Communication at the University of Texas-Rio Grande Valley. Between 1998 and 2007, Mottet was a professor of Communication at Texas State.
Dr. Mottet has co-authored four books and published more than 60 peer-reviewed journal articles and book chapters. His research examines the intersections of communication, personality, and cognition and their application to instructional, organizational, and interpersonal contexts.
Most recently, he has researched the communication effectiveness of pediatric trauma team members in hospital emergency rooms.
Mottet earned a Bachelor of Arts in Communication from William Jewell College, a Master of Science in Mass Communication from Boston University, and a Doctoral Degree in Instructional Communication from West Virginia University. He served as a 2016-2017 Baldrige Executive Fellow, associated with the U.S. Department of Commerce's Performance Excellence Program, and was a 2010 participant in Harvard University's Management Development Program for higher education leaders.
He and his colleagues received the 2015 International Education Award from the American Association of State Colleges and Universities and Kansas City's 2016 Northland Regional Chamber of Commerce Award for Excellence in Higher Education.
Tim and his spouse, Rick Gonzalez, enjoy entertaining friends, spending time with their families, exploring the French Quarter in New Orleans, volunteering at animal shelters, collecting art, and scuba diving.
Rick Gonzalez, Presidential Spouse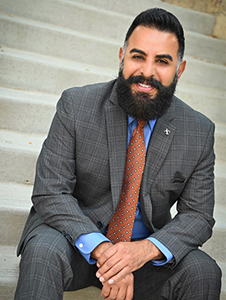 Rick Gonzalez, a native of the Rio Grande Valley of South Texas, has worked as a staff member in higher education for 10 years in both student affairs and university advancement at both Texas State University and The University of Texas-Rio Grande Valley.
Since moving to Pueblo in 2017, Rick has invested hundreds of hours volunteering at Southern Colorado Spay & Neuter and Adoption Clinic (SoCO) in the feline unit as well as Colorado State University-Pueblo.
At SoCO he spends time socializing cats, promoting their stories using social media, and finding appropriate homes. Rick introduced the Buddy Program to SoCO, which connects shelter cats and dogs with sponsors. Through sponsorships, SoCO is able to provide enhanced care to cats and dogs in the shelter.
At CSU Pueblo Rick contributes to the University by volunteering and providing administrative support to a variety of units on campus. He also hosts numerous dinners and receptions for donors, alumni, and students.
Gonzalez has been invited by the President of the American Association of State Colleges and Universities (AASCU) to develop and coordinate programming at the national conference for presidential spouses. He also serves as a board member of the Parkview Foundation.
Rick and his spouse, Timothy Mottet, have two shelter cats (Emily and Birdie). Rick enjoys scuba diving, international travel, and exploring the music and art scene in the French Quarter of New Orleans. Contact Rick at: Rick.Gonzalez@csupueblo.edu.