Mass Communications Minor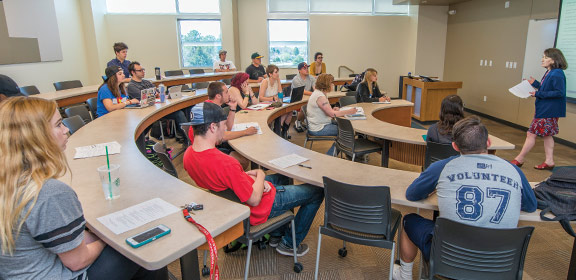 Specific Requirements
Students desiring a minor in Mass Communications must complete 21 credit hours approved by their minor area advisor and MUST include MCCNM 101. The minor may not include more than 3 credits of media lab and must include at least 6 hours of upper division Mass Communications coursework. Students must earn a C or better in all Mass Communications courses to be eligible for graduation with the required 2.0 in the minor. Students who earn grades of below C will be required to repeat the course in order to be considered for a minor in Mass Communications.
Outcomes Assessment Activities
Student success is measured through a variety of methods that include classroom writing samples, portfolios of student work, professional internship evaluations, exit interviews, student employment upon graduation, and alumni feedback.
Each major or minor is encouraged to maintain an academic portfolio of all salient work or projects completed while in the department. Department faculty will review and evaluate a selection of portfolios in the spring of each year to track student progress. Each emphasis area adviser also maintains a file.
The Mass Communications Department/Center for New Media insists that the academic portfolio demonstrate a pattern of sustained academic growth and development of the major and minor, appropriate to the student's emphasis area.
The academic portfolio should reflect the quality and level of intellectual and scholarly work undertaken by the student while in the department, relative to the qualitative, quantitative, ethical, legal and aesthetic dimensions of the field. The appropriateness of the content is dictated by the student's emphasis area and is prescribed by the individual's advisor.
A student may be required to participate in an exit interview during his or her final semester. Students are selected on a random basis from enrollments in the department's capstone course, Mass Media Seminar.