Outreach & UX Services
Research workshops
Attend an upcoming workshop hosted by the University Library.
Faculty workshops
Request a workshop for your department of group. 
Cosponsorship Program
Apply for funding for your upcoming event through the library's cosponsorship program. 
2017-2018 Research Workshop Series
Library research workshops are free and open to all students, faculty, and staff. Come learn about library resources for doing research, writing papers, preparing presentations, and much more! Register for our workshops on EventBrite and receive reminder emails and alerts. 
Faculty workshops on copyright, data and research management, and library service platforms are offered on demand to meet your busy schedules. Individual faculty, groups, and departments can request one of our on-demand workshops any time.
Have a suggestion for future workshops? Email us!
Fall 2017 Research Workshops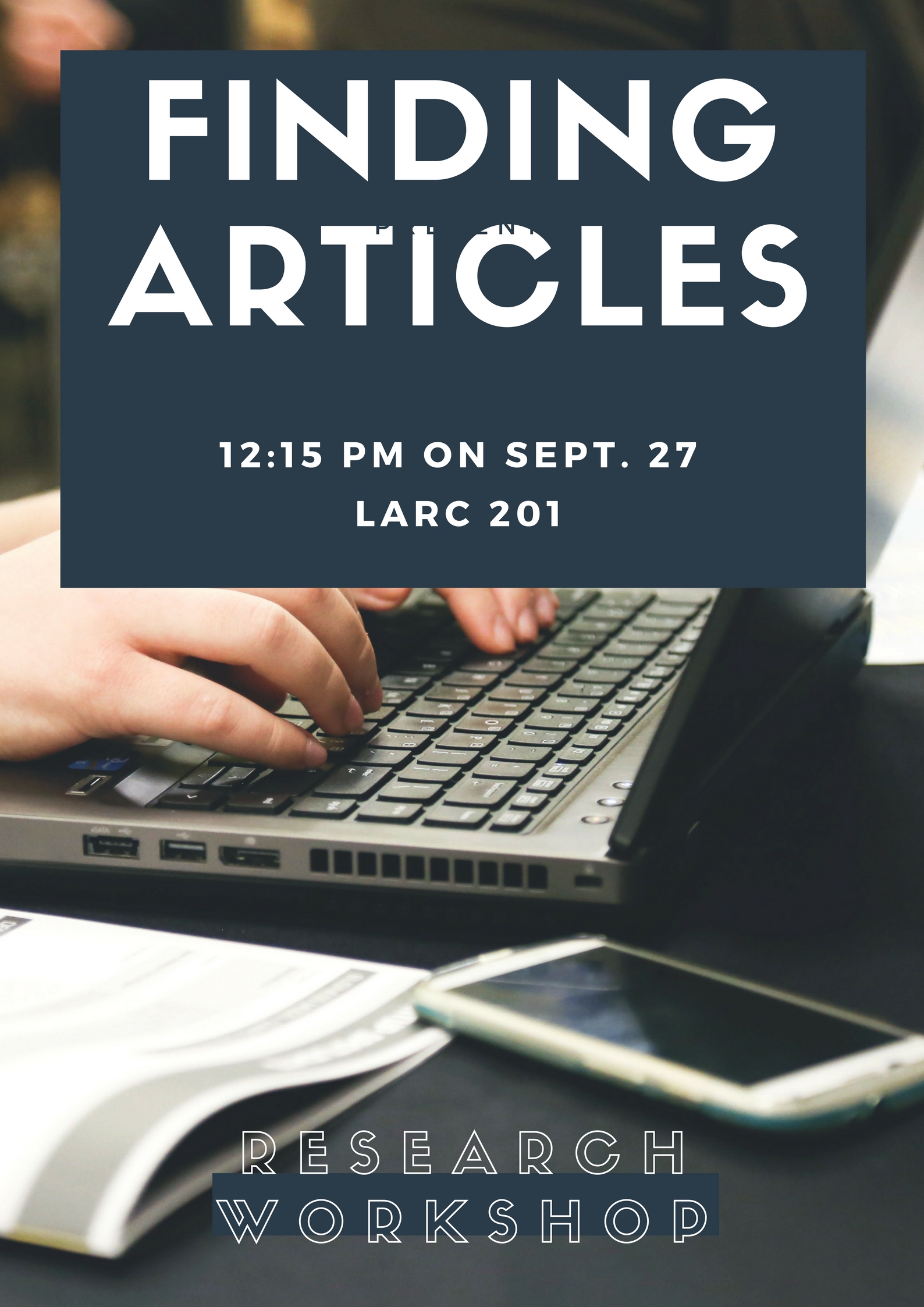 Finding articles
September 27 at 12:15–1:15 PM in LARC 202
So you need to write a research paper, but aren't sure where to start? Learn how to define your research topic and search the library's resources to find exactly what you need. We'll also cover common research pitfalls and helpful tools to keep track of works cited. Recommended for undergrad and graduate students.
Library workshop for transfer students
October 9 at 1:00–2:00 PM in LARC 108
Welcome to CSU-Pueblo! Join us for brief workshop to orient you to the resources available at your new university library.
Citing made simple with EndNote Web
October 17 at 2:30–3:30 PM in LARC 217
Learn how to use EndNote Web to collect and organize citations as you're finding articles. Then, use its cite-while-you-write tool to quickly and easily add formatted citations to your paper.
Library workshop for transfer students
November 1 at 11:30–12:30 PM in GCB 211
Welcome to CSU-Pueblo! Join us for brief workshop to orient you to the resources available at your new university library.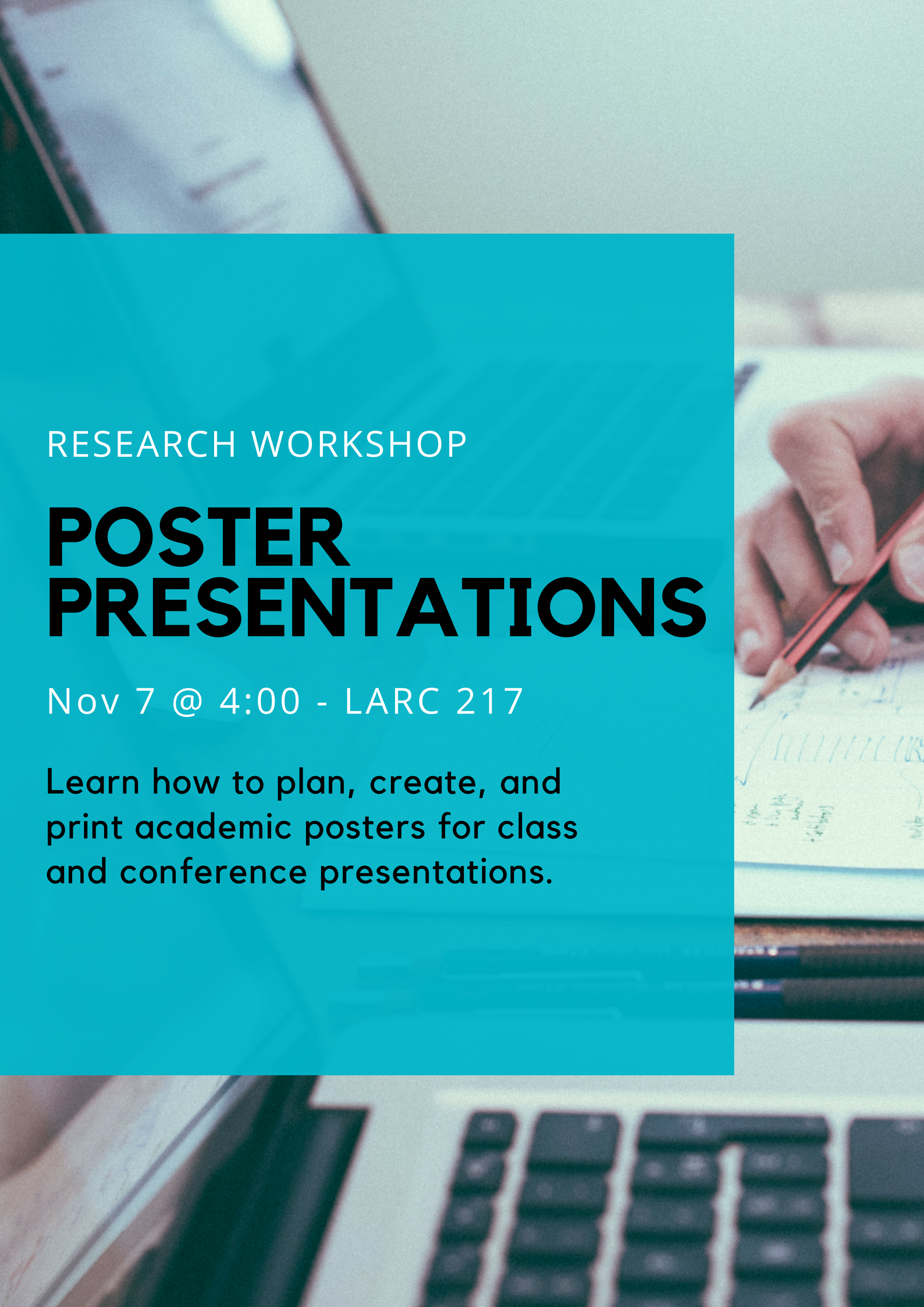 Poster presentations
November 7 at 4–5 PM in LARC 202
Learn how to plan, create, and print academic posters for class and conference presentations. Pick from several free templates to start your own design.
Google Scholar
November 15 at 1:30–2:30 PM in LARC 217
Do you ever feel frustrated when trying to access articles through Google Scholar? Learn how to link your Google Scholar and CSU-Pueblo accounts to increase available articles, practice advanced searching techniques, and build your works cited list.
Faculty Workshops On Demand
Visual aids
Finding and using images for articles, blogs, theses, or presentations can be stressful. This workshop will introduce you to the library's visual collections and focus on determining whether a particular image requires permission or can be used under "fair use". We'll also provide suggestions on where to find images already flagged for reuse, and best practices for citing images.
Data management for researchers
Do you need help wrangling existing data, or writing a data management plan for a grant? This session will cover common data management missteps and walk through the steps of creating and implementing a data management plan, including software solutions and meeting funder compliance policies.
Owning your academic identity
Public academic profiles and researcher identifier systems like Mendeley, ResearchGate, ORCID, and Google Scholar are all platforms where researchers can connect with other experts, find collaborators, and disseminate their work freely. During this session, we'll discuss why managing our academic profiles is important and how we can use these tools to promote ourselves and our departments. We'll set up ORCID and Google Scholar accounts and begin building our profiles.
Special Events Cosponsorship Program
 

Purpose

The purpose of CSU-Pueblo Library's Special Event Cosponsorship is to encourage collaboration between the Library and other campus entities as well as to further the Library's mission to provide special events and collections that promote "cultural appreciation and lifelong learning throughout the campus and community." ("

Mission

"). These cosponsorships will be used to partner with other campus entities for the purpose of hosting special events that specifically meet the criteria articulated in the Library's mission statement. Participation in campus events is an important element of the Library's outreach and service mission and enhances positive connections to the campus community. The Library will evaluate all requests and determine the amount, nature, and source of the Library's contribution to campus events. The Library retains the sole right to choose which projects it will fund and may use discretion in determining which projects are the best fit for its goals. In doing so, it will consider issues such as suitability to the Library's mission, diversity of topics presented over a period of time, potential for campus interest in the topic, etc.

 

Process

In August of each academic year, the Library will issue a call by campus email for proposals. Applicants will complete the attached funding request form and submit it to the Library by the date specified in the email. Funding will be dependent on the Library's budget in the given year, but will not exceed $1000 per event. The Library may choose to fund one or more proposals, or none at all, based on the quality of the applications and the Library's available funds.

 

Application Eligibility

Any registered student organization, faculty member, or staff member may apply for a cosponsorship from the Library for a special event that meets the specified purpose of the program outlined above.

 

Guidelines and application