Student Life
Welcome to Colorado State University-Pueblo!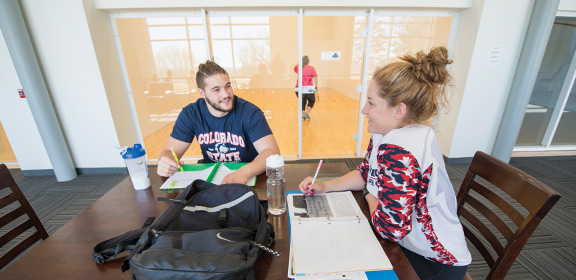 CSU-Pueblo is much more than a place to learn. We provide students with excellent on-campus housing and dining, health care services and many more on-campus activities as well as outdoor activities.
Housing
There are many advantages of living on campus. It provides students the convenience of living close to the classroom and helps students to be more engaged in learning and campus activities. It benefits ELI students immensely because they will have more opportunities to practice English, learn American culture, and establish long-term friendships with local students.
CSU-Pueblo has four fully furnished, apartment-style residence halls. They are Crestone Hall, Culebra Hall, Greenhorn Hall and Belmont Hall. Each hall offers its own personal and unique communities within. The comfortable, convenient and secure environment makes students feel at home.
Health
CSU-Pueblo's Student Health Services exists to help students achieve maximum physical health so they may participate fully in the educational and personal growth opportunities afforded by the University. Student Health Services offers the highest quality primary health care, health education/promotion to all students.
Medical insurance is highly recommended for all international students. Insurance is available for purchase through the University.
An immunization from must be completed by a medical professional for every student and submitted to the Health Services Office during the first semester of attendance at CSU-Pueblo. An international immunization record must also be provided before being allowed to register for course work at CSU-Pueblo.
Student Dining
CSU-Pueblo provides students with several on-campus dining options. The Columbine Cafe prepares students buffet-style meals from a variety of nutritious food and beverages. La Cantina offers an array of retail dining options, and students can grab a snack between classes at other locations as well. Students who live on campus are required to purchase a meal plan.
Outdoor Pursuits Program
The Outdoor Pursuits Program gives students opportunities to explore the beauty of Colorado through a series of one day or extended outdoor trips like camping, hiking, kayaking, mountain biking, ski/snowboarding. Trips are led by experienced student leaders and are either free or very affordable.
Recreation Center
The Student Recreation Center aims to expand students' educational experiences beyond the classroom and to promote experimental learning. It operates year round and offers trips, educational seminars, sporting events, fitness programs and has an equipment rental program.
ELI
ELI tuition is $250 per credit hour, or $3,000 per semester for a full-time 12-credit load. Mandatory student fees are $650 per semester. Textbooks and supplies are around $200.
Housing and Dining
Dormitories and meal plans start at approximately $3,700