Honors Program
Mission Statement
The University Honors Program at CSU-Pueblo provides high-achieving students with enhanced learning opportunities to stimulate their engagement and development, both within an intellectual community of scholars, and as citizens of the wider university community and the world. The Program provides students with special opportunities for interaction with faculty in thought-provoking seminars and intensive guided research, as well as experiential and service-learning projects.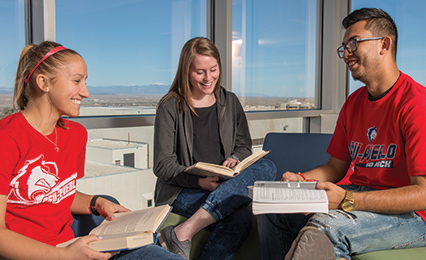 Admissions Requirements
Honors Program students are selected from hundreds of applicants based on the promise of academic excellence.
Incoming freshmen are invited to apply if they graduated high school with a GPA of 3.8, or a minimum combined ACT score of 26, or a minimum combined SAT score of 1200. An index score determines final eligibility.
Current CSU-Pueblo undergraduates and undergraduate transfer students with a minimum cumulative GPA of 3.5 may also apply to the program. Contact the Honors Program Director for more information.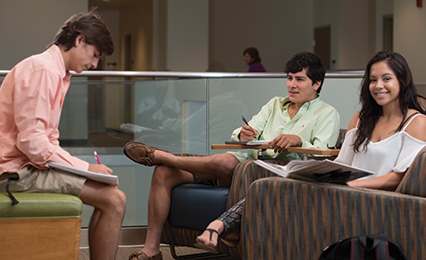 Honors Experience
"Whether it's a late-night study session, a friendly game of indoor soccer, or just grabbing lunch in between classes, I find myself constantly surrounded by the many friends I have met through the honors program.
Honors sections have the benefit of small class sizes where everyone knows everyone and so it creates a very interactive atmosphere. I also love that I can always find a good study partner right before a big exam."
Moriah Fillmore,
Valedictorian Pueblo South H.S.
Mathematics/Secondary Education
Kane Scholar
---
"The CSU-Pueblo honors program has provided me with a higher quality and more personalized education, and I have made friendships with fellow honors students that will last forever."
Graham Harper,
Cañon City H.S.
Mathematics
---
"The Honors Program has been a great opportunity, and having the additional scholarship award allows me to focus on learning and doing my best in all of my classes."
Samantha Marie Villanueva, Pueblo West H.S.
Biology (Pre-Physical Therapy)