Colorado Springs Campus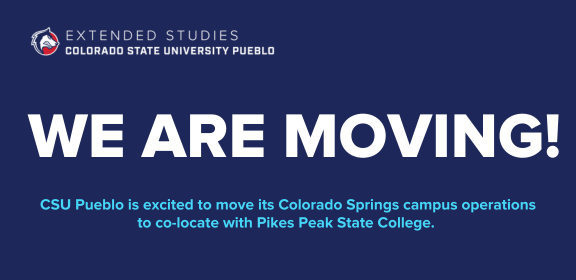 CSU Pueblo is excited to move its Colorado Springs campus operations to co-locate with Pikes Peak State College. Our location at S. Circle drive is now officially offline. The CSU Pueblo staff will be located at the following address: 
CSU Pueblo at PPSCCentennial Campus
5675 S. Academy Blvd. 
A223 
Colorado Springs, CO 80906
Join us for our Open House on July 31 from 1-5pm to see our new office location at A223 and speak with our team about what we have to offer!
While the institution seeks final approval from our accrediting body, the Higher Learning Commission, CSU Pueblo will begin to offer courses at the PPSC Centennial Campus Fall 2023. 
Course offerings can be found here.
As CSU Pueblo and PPSC navigate the relocation of our offices and programs pending HLC approval, we are excited to offer more resources and information for students, staff, and faculty. Check back soon for more information! 
Student Resources
 

Social Work Transfer Students

Social Work Transfer Students

 - 

Pueblo Community College and Pikes Peak Community College have established a transfer agreement with CSU Pueblo that allows students who have earned their Associate of Arts degree in Social Work at the aforementioned schools to seamlessly transition into a BSW and MSW program at CSU Pueblo Colorado Springs.

 

TRIO EOC

TRIO Educational Opportunity Center has an office at the Colorado Springs campus, helping to offer low-income and first-generation college students academic, financial and career related assistance. For more info, contact Reginald Harge, Director, by calling 719.586.6924.