How to Register and Request T.A.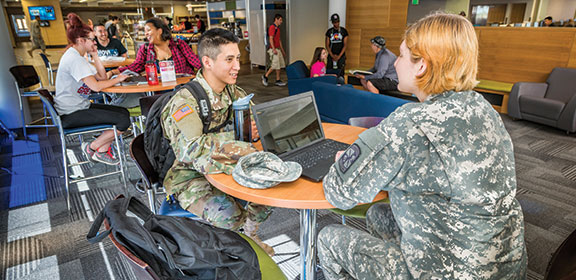 Meet with an Army Education Counselor to upload a degree planning sheet and make CSU-Pueblo your home school in GoArmyEd.
Complete the CSU-Pueblo application process online or in paper form. Paper applications can be picked up at the Fort Carson CSU-Pueblo office or our Colorado Springs Tower location.
Once admitted, utilize your student ID (PID) to enroll in courses through the TWOLF Portal.

Make sure you are using Firefox or Microsoft Internet Explorer​ Browser.
Go to the CSU-Pueblo website at www.csupueblo.edu
Click on the T-Wolf Portal link at the top navigation section of the screen.
Click on the PAWS link on the left hand navigation section of the screen.
You will be taken to a login screen for PAWS. Enter your PID #. Be sure the letters PID stay in the box and your # goes after the letters. (If you do not know your PID, refer to your acceptance letter or call our office.)
Your PIN number will be your birthday in MMDDYYYY format.
Click login, and the next screen will ask you to create your own PIN number that you will use for future access to PAWS.
After you create your PIN, you will be asked to login again using your new PIN, then you will be told to complete "tasks".
Click on the tasks tab or home tab and you should see a screen that asks you to verify your personal information.
Click Modify. Make changes if necessary, and then click Validate.
You should now be able to click on the home tab and have access to your transcripts and other information.
Be sure your pop-up blockers are off or you will not be able to see your transcript

Watch this instructional video on how to request your T.A.
Complete your T.A. request and submit.

You have 7 days from the start date of your course to submit your T.A. request.