Colorado Springs Campus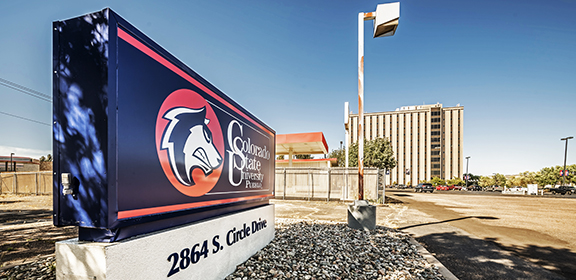 We offer classes that are personal, affordable, and flexible!
At CSU-Pueblo you will find small class sizes taught by industry experts for the best value in town. We understand that working adults have hectic schedules with many personal and professional commitments. Because of this, our class schedules are aligned to accommodate our student's needs. Classes are available in accelerated 8 and 15 week formats, and are typically held one or two times per week in the evenings. Other classes are scheduled on weekends to provide maximum flexibility.
Prior to each semester, CSU Pueblo's Colorado Springs campus will host its one-stop event for transfer students seeking educational assistance. Transfer students can attend this free event for help with registering and advising, which will ensure a smooth transfer experience. Participants will have the opportunity to speak with various department representatives and will be entered to win scholarships just for attending. Call 719-442-2264 to find out when the next REACT Enrollment event is.
Update: The Spring 2020 REACT event has been canceled, but we look forward to seeing you at the fall REACT event.
Baccalaureate Degree Programs
Sociology​
Social Work
Criminology
Student Resources
Online Application