Creative Writing Minor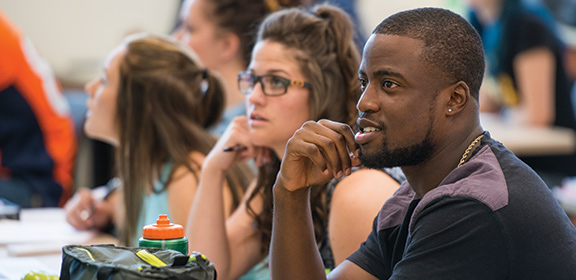 The English program coordinates a minor in creative writing, designed for students who are considering pursuing an MFA in creative writing upon graduation. Since, at the graduate level, the MFA degree specializes in either poetry, playwriting, creative non-fiction, or fiction, students minoring in Creative Writing will be required to focus their studies on one genre (Poetry, Fiction, or Playwriting) after completing a series of introductory courses, while at the same time enrolling in elective courses related to their personal writing goals. The minor is primarily geared toward non-English majors who are considering a career in creative writing or a graduate degree (MA or MFA) in their chosen genre.
Student Learning Outcomes
Students will demonstrate a working vocabulary for critical analysis through theoretical venues as well as in-depth study of terminology and form within creative works to develop strong critiquing skills in the workshop environment.
Students will produce writing competitive at a publishable level, which reflects an understanding of the creative writing genres, the business of writing, and the drafting and revision process for individual and collections of works.
Outcome Assessment Activities
The Coordinator of the Creative Writing minor reviews student portfolios and evaluates the level of performance demonstrated, tracks the placement of students in graduate programs, and keeps records of publications by students and former students, reporting the results annually.
Specific Requirements for the Creative Writing Minor
Courses
Titles
Credits
ENG 114
Introduction to Creative Writing
3
One of the following courses
ENG 315
Creative Writing: Poetry
3
ENG 316
Creative Writing: Fiction
3
ENG 317
Creative Nonfiction
3
ENG 318
Creative Writing: Drama
3
One of the following pairs, by genre
Poetry
ENG 307
Poetry
3
ENG 414
Advanced Writing Workshop
3
Fiction
ENG 308
Fiction
3
ENG 414
Advanced Writing Workshop
3
Creative Nonfiction
ENG 414
Advanced Writing Workshop
3
ENG 440
Magazine Writing
3
OR
ENG 325
Nature Writing in the West
3
Playwriting
ENG 309
Drama
3
ENG 414
Advanced Writing Workshop
3
At least three of the following courses not used above
ENG 303
Adv. Comp., Rhetoric, & Grammar
3
ENG 315
Creative Writing: Poetry
3
ENG 316
Creative Writing: Fiction
3
ENG 317
Creative Nonfiction
3
ENG 318
Creative Writing: Drama
3
ENG 325
Nature Writing in the West
3
ENG 352
English Syntax and Usage
3
ENG 412
Literature for Adolescents
3
ENG 440
Magazine Writing
3
FL 100
Introduction to Comparative Linguistics
3
Honors Seminars: as approved by advisor
MCCNM 233
Script Writing
3
MCCNM 402
Photojournalism
3
PHIL 102
Philosophical Literature
3
PHIL 401
History of Epistemology Seminar
3
PSYCH 334
Perception
3
TH 111
Theatre Appreciation
3
TOTAL
21