Engineering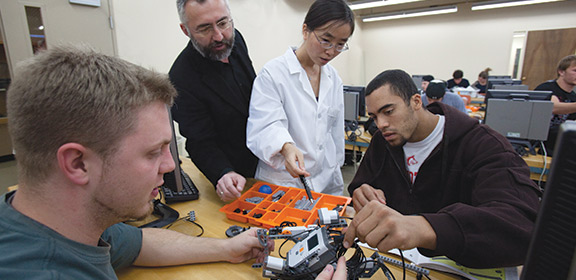 The BS in Engineering is a flexible, broad degree that prepares graduates to work in many industries.  The degree has a specialization in mechatronics. Mechatronics combines mechanical and electrical engineering with computers to create devices that make our lives better.  The BSIE program is concerned with the design, improvement, and installation of integrated systems of people, materials, information, equipment, and energy.  The BSE and BSIE programs are accredited by the Engineering Accreditation Commission of ABET, http://www.abet.org. 
More details on each program can be found under Degrees Offered on the menu to your left. 
Employers interested in hiring engineering students as interns or engineering graduates as permanent employees can contact the Department or the CSU-Pueblo Career Center.​​
Welcome Message from the Chair
Whether you are a prospective student, a current student, or other interested person, I hope you will find on these web pages the information you need, but I also hope you will be able to get a feeling for what it is like to be a student here. Here are some points that I think may help you: 
Faculty members in the Department of Engineering know the name of every student in our classes. We want every student to succeed.
The faculty members in the Department of Engineering have lunch together every Friday. We work as a team.
If I am in my office, my door is open.
The Engineering Study Room is used for study, socializing, and club meetings, including meetings of student chapters of the Institute of Electrical and Electronic Engineers, the Institute of Industrial Engineers, and the Society of Mexican American Engineers and Scientists.
The BS in Industrial Engineering is the only ABET accredited program in industrial engineering in Colorado.
Engineering students have won national scholarships from the Institute of Industrial Engineers, the Society of Mexican American Engineers and Scientists, and the Society of Manufacturing Engineers.
At CSU-Pueblo, 45% of the students are nontraditional college students. CSU-Pueblo is committed to providing access to higher education for students who might not otherwise have the opportunity.
CSU-Pueblo is one of only 15 Hispanic Serving Institutions with an ABET accredited engineering program.
The Pueblo area has over 300 days of sunshine a year.
The people of Pueblo enjoy the many ethnic backgrounds of the area residents: annual events include Cinco de Mayo, Italian Festival, Oktoberfest, Pueblo Chile and Frijole Festival, and Christmas Posada & The Nutcracker.
Pueblo has wonderful recreational opportunities, including hiking, boating, white water rafting, horse back riding, skiing, fishing, and hunting.
Student Organizations
The Department has student chapters of the following professional organization:
ASME - American Society of Mechanical Engineers
IEEE - Institute of Electrical and Electronic Engineers
IIE - Institute of Industrial Engineer