Communication and Rhetoric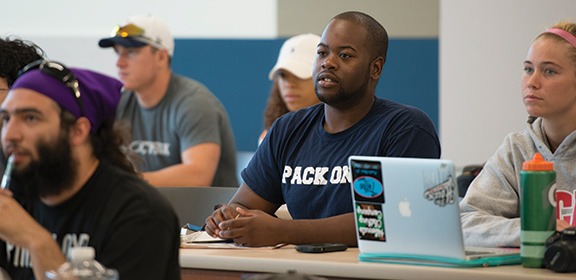 The Communication & Rhetoric minor at CSU-Pueblo is designed for students interested in developing effective written and verbal communication skills. It provides a course of study that emphasizes both a theoretical understanding and practical application of communication that prepares students technically, professionally, and personally to successfully navigate a variety of challenges. The minor promotes an understanding of interpersonal, organizational, rhetorical, and intercultural communication.
Why minor in Communication & Rhetoric?
According to a survey conducted by the National Association of College Employers (2013), the number one soft skill employers were looking for was the ability communicate verbally with people inside and outside of an organization.
This minor can support any major on campus.
You can:
Become an eloquent communicator by enhancing speaking and listening skills.
Develop hands on communication skills to use in personal and professional settings.
Engage in the art of persuasion and crafting strong arguments.
Prepare yourself for the job search and your future career
Program Goals
To provide individual courses as well as an academic minor in Communication & Rhetoric that foster students' abilities to describe, analyze, critique, explore, create and produce ideas and content in various contexts.
To cultivate students' abilities to construct and respond to messages effectively utilizing various modes of communication.
To develop students' understanding of demographics and cultures and how these factors influence the communication context.
To prepare students to communicate in professional contexts as well as in more informal ones.
To prepare students to better communicate academic, personal, and civic knowledge.
The Department of English and Foreign Languages would like to reaffirm its commitment to intellectual inquiry and the pursuit of knowledge in an environment free of discrimination. We stand up against intolerance and will not accept intimidation based on gender, ethnicity, religion, race, disability or sexual identity/orientation. We believe in the power and importance of freedom of speech, freedom of religion, and freedom of thought.
We encourage our CSU-Pueblo family to foster respectful and productive dialogue in our classrooms, in our buildings and in our community. In our role as an academic institution, we pledge to promote inclusion and to respect diversity of thought on our campus and in our community, country, and world.