Preparation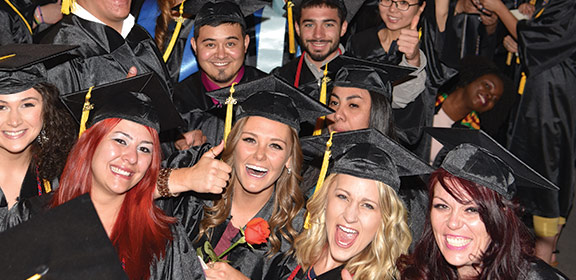 Caps and Gowns
Orders will be taken at the CSU-Pueblo Bookstore during the Graduation Fair on March 6-7, 2018 from 9 a.m.- 5 p.m.
Orders also will be taken at the CSU-Pueblo Colorado Springs Tower Location, 2864 South Circle Drive, Suite 200, on March 5, 2018 from 3-6 p.m.
Student cap and gown purchase fees are due at the time of measurement. The costs (NOT INCLUDING TAX) based on degree earned are as follows:
Bachelor: $34.99

Master: $69.99

Souvenir Tassel: $7.99
Orders also may be placed through the Bookstore website address: www.csupueblobookstore.com.
Full payment must be received at the time of the order. Please make checks payable to the CSU-Pueblo Bookstore. There are NO refunds.
A late fee of $15 will be charged for orders placed from March 8-16, 2018. A late fee of $25 will be charged for orders placed after March 16, 2018.
Students NOT purchasing a cap and gown must register during the Graduation Fair to reserve a seat for the ceremony OR RSVP here.
ALL caps and gowns NOT purchased through the bookstore must be approved by External Affairs BEFORE the ceremony.
The tassel should be worn to the right side on Commencement day. Tassel will be moved to the left side once degrees are conferred.
Honor Cords
There are three levels of University (baccalaureate degree only) scholastic honors at graduation: summa cum laude, magna cum laude, and cum laude. A minimum of 60 semester hours must be earned at CSU-Pueblo for a student to be considered for these honors.
To graduate summa cum laude, a minimum cumulative grade point average (GPA) of 3.900 is required; for magna cum laude, a minimum cumulative GPA of 3.750 is required; and for cum laude, a minimum GPA of 3.500 is required.
The listing and reading of cum laude status for degree candidates are based on the grade point averages achieved at the beginning of the student's final semester. Utilizing data from official deadlines, the information for the commencement program is finalized near mid March-changes, modifications, or updates received after that time may not be included. The commencement program is not an official list of confirmed graduates or honors awarded. A final audit will determine degree conferral and academic accords.
For those graduating with honors, honor cords may be picked up during cap and gown distribution at the CSU-Pueblo Bookstore on Friday, May 4th, 2018, from 9 a.m. to 5 p.m. Please check with your sponsor for all other honor society needs.
Legacy Cords
2018 Alumni Association Legacy Cord Form
Tickets
Special seating is for guests with special needs, i.e., hearing, physically or visually challenged. You may request up to two reserved seating tickets (one for disabled guest and one accompanying family member) Please fill out the Reserved Seating form and return to External Affairs prior to April 20, 2018.
Diplomas
Degrees will be conferred after the final academic audit. Diplomas will be mailed to the address designated on your graduation planning sheet 10-12 weeks after the last day of semester. Graduates who wish to have their diplomas mailed to a different address can designate that address on the PAWS web services. Those graduates who would like to pick-up diplomas in person, may contact the Registrar's Office (ADMN 202, 719.549.2712) to make arrangements.