Agenda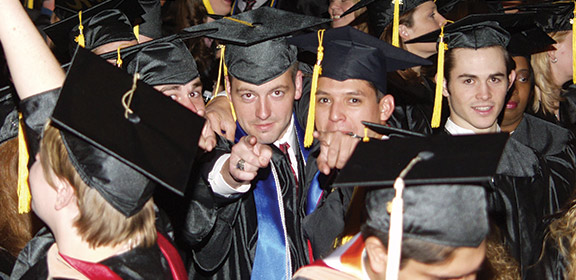 8:30 - 9:30 a.m.
Graduates and faculty will assemble in the Palace of Agriculture to process into the Events Center.
Graduates and faculty arrive at the upper level of the Palace of Agriculture.
Ushers will be in the Palace of Agriculture to check graduation name cards and to assist with assembling graduates and faculty for the processional.
Signs will designate the appropriate areas for graduates to assemble: the College of Education, Engineering and Professional Studies, the College of Humanities and Social Sciences, the College of Science and Mathematics, the Hasan School of Business, and master's degree candidates.

10 a.m.
Ceremony begins with a processional into the Events Center.

Student marshals will lead graduates from their respective academic units into the Events Center. Graduates will be directed by ushers to the graduate seating sections. Graduation name cards (received with caps and gowns) will be handed to a designated University staff member as graduates approach the stage. If your name is difficult to pronounce, please notify the staff member taking the cards. The names of graduates are read by the announcer. Please do not add additional information to your card. It will NOT be read. Only names and honors will be announced.

1:00 p.m.
Commencement Ceremony ends at approximately 12:30 p.m.  with recessional to the reception area.

The platform party, faculty, and graduates will take part in the recessional that culminates with a reception for graduates, family, and friends.
​​​​​